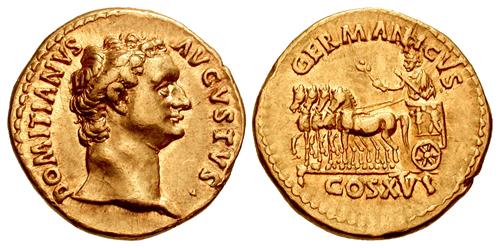 Domitian. AD 81-96. AV Aureus (19mm, 7.54 g, 6h). Rome mint. Struck AD 92-94.
Triton XXIV
Lot: 1078. Estimated: $ 20 000
Roman Imperial, Gold
Sold For $ 28 000. This amount does not include the buyer's fee.
Domitian. AD 81-96. AV Aureus (19mm, 7.54 g, 6h). Rome mint. Struck AD 92-94. DOMITIANVS AVGVSTVS •, bare head right / GERMANICVS above, COS XVI in exergue, Domitian standing left in slow triumphal quadriga, holding laurel branch in right hand and scepter in left; Victory left, crowning trophy, on side of chariot. RIC II.1 749; Calicó 853; BMCRE 213; BN 190; Biaggi –; Jameson –; Mazzini 161. In NGC encapsulation 4680608-003, graded AU(star), Strike: 5/5, Surface: 5/5, Fine Style. Rare.

From the Grand Haven Collection. Ex Numismatica Ars Classica 92 (Part 1, 23 May 2016), lot 523; Triton XII (6 January 2009), lot 590; Triton VII (12 January 2004), lot 906.

Domitian always stood in the shadow of his father and elder brother. Vespasian and Titus had been heaped with military and civic honors throughout their long and distinguished careers. When he became emperor in AD 81, Domitian sought to gain the glory that would equal or exceed that his father and brother had won in the Jewish War, and launched a series of moderately successful campaigns against the Germans and Dacians. This aureus proclaims him as Germanicus, a title he had assumed about a decade earlier, and serves as a memoir of his triumph in AD 89.

The final winners of all Triton XXIV lots will be determined during the live online sale that will be held on 19-20 January 2021. This lot is in Session Three, which begins 20 January 2021 at 9 AM ET.

Winning bids are subject to a 20% buyer's fee for bids placed on this website and 22.50% for all others.

We recognize that our users may have various Internet Browsers and Operating Systems. We like our visitors to have the best possible experience when using our bidding platform. However, we do recognize that it is impossible to develop applications that work identically, efficiently and effectively on all web browsers. The CNG bidding platform supports Mozilla Firefox (version 60+) and Chrome (version 67+).