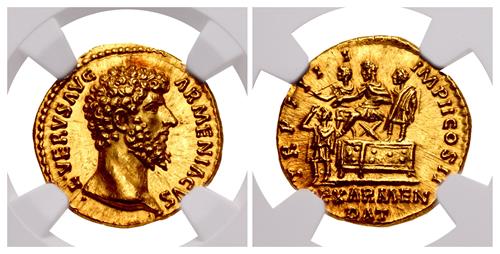 Lucius Verus. AD 161-169. AV Aureus (18.5mm, 7.30 g, 12h). Rome mint. Struck AD 164.
Triton XXIV
Lot: 1108. Estimated: $ 20 000
Roman Imperial, Gold
Sold For $ 26 000. This amount does not include the buyer's fee.
Lucius Verus. AD 161-169. AV Aureus (18.5mm, 7.30 g, 12h). Rome mint. Struck AD 164. • L • VERVS ΛVG ΛRMENIΛCVS, bare head right / TR P IIII IMP II COS II, REX ΛRMEN/ DΛT in two lines in exergue, Lucius Verus, in military dress, seated left on curule chair set on raised daïs with attendant standing on either side; in front of daïs, the Roman-appointed Armenian king, Sohaemus, standing left, raising right hand to head. RIC III 512 (Aurelius); MIR 18, 92-12/10; Calicó 2154 (same dies as illustration); BMCRE 300 (Aurelius and Verus); Adda 340 (same dies); Biaggi 956 (same dies); Jameson 143 (same dies); Mazzini 158 (same dies). In NGC encapsulation 5874086-001, graded MS, Strike: 5/5, Surface: 4/5, Fine Style.

From the Grand Haven Collection. Ex Numismatica Ars Classica 114 (9 May 2019), lot 731.

The reverse records the re-installation of Gaius Julius Sohaemus as king of Armenia. Sohaemus, a member of the royal household of the Syrian caravan city of Emesa, was originally crowned as king by Antoninus Pius in AD 144, an event also recorded on that emperor's coins. In AD 161, the Parthians invaded Armenia and drove him into exile. An offensive led by Verus cleared out the Parthians and re-established the pro-Roman regime of Sohaemus, who is seen here receiving his crown. The exceptional artistry of the obverse portrait, together with the complex reverse composition, marks this as a special issue celebrating Verus's feat of arms.

The final winners of all Triton XXIV lots will be determined during the live online sale that will be held on 19-20 January 2021. This lot is in Session Four, which begins 20 January 2021 at 2 PM ET.

Winning bids are subject to a 20% buyer's fee for bids placed on this website and 22.50% for all others.

We recognize that our users may have various Internet Browsers and Operating Systems. We like our visitors to have the best possible experience when using our bidding platform. However, we do recognize that it is impossible to develop applications that work identically, efficiently and effectively on all web browsers. The CNG bidding platform supports Mozilla Firefox (version 60+) and Chrome (version 67+).