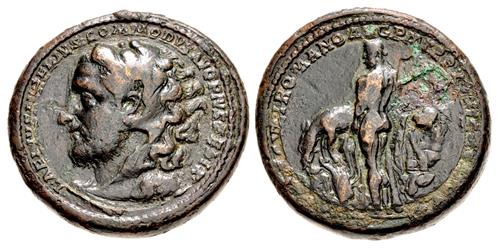 Commodus. AD 177-192. Bimetallic Medallion (44mm, 71.70 g, 12h). Rome mint. Struck 10-31 December AD 192.
Triton XXIV
Lot: 1112. Estimated: $ 7 500
Roman Imperial, Bronze, Coin-in-Hand Video
Sold For $ 6 000. This amount does not include the buyer's fee.
Commodus. AD 177-192. Bimetallic Medallion (44mm, 71.70 g, 12h). Rome mint. Struck 10-31 December AD 192. L • AELIVS • AVRELIVS • COMMODVS AVG PIVS FELIX, head of Commodus as Hercules left, wearing lion skin headdress / HERCVLI ROMANO AVG P M TR P XVIII COS [VII] P P, nude Hercules, with features of Commodus, standing slightly left, seen from behind; in background, rocks covered with boar and lion skin; at feet to left of Hercules, bow and quiver leaning against rocks; club to right. Gnecchi II, p. 55, 33 and pl. 80, 5; Toynbee pl XLIII, 3 var. (obv. to right); MIR 18, 1165-1/73; Cohen 209; Banti 112 (this medallion). Dark brown patina, scratches before portrait on obverse, rough patch in upper right field of reverse. VF. Extremely rare and impressive. Of great historical interest.

Ex Classical Numismatic Group 109 (12 September 2018), lot 676; Property of Princeton Economics acquired by Martin Armstrong (Classical Numismatic Group Electronic Auction 271, 11 January 2012), lot 84; Classical Numismatic Group 50 (23 June 1999), lot 346; V.J.E. Ryan Collection (Glendining's, 2 April 1952), lot 2647.

On the 10th of December AD 192, Commodus entered his 18th Tribunician year. Coins carrying this tribunician date are exceedingly rare. Medallions bearing this date are known with this or one of five other reverse types, all of which show Commodus as Hercules. All of the medallions are very rare; Toynbee recorded only thirty-nine total specimens of the six types. These medallions were evidently prepared ahead of time to be given out as gifts, either on the 10th of December or the 1st of January. Commodus, however, would not see the new year, as he was murdered on the evening of December 31st. As Toynebee notes (p.74-5), if the latter date is favored, it is quite possible that some of the recipients of these medallions received them along with the news that Commodus had been murdered!

The final winners of all Triton XXIV lots will be determined during the live online sale that will be held on 19-20 January 2021. This lot is in Session Four, which begins 20 January 2021 at 2 PM ET.

Winning bids are subject to a 20% buyer's fee for bids placed on this website and 22.50% for all others.

We recognize that our users may have various Internet Browsers and Operating Systems. We like our visitors to have the best possible experience when using our bidding platform. However, we do recognize that it is impossible to develop applications that work identically, efficiently and effectively on all web browsers. The CNG bidding platform supports Mozilla Firefox (version 60+) and Chrome (version 67+).