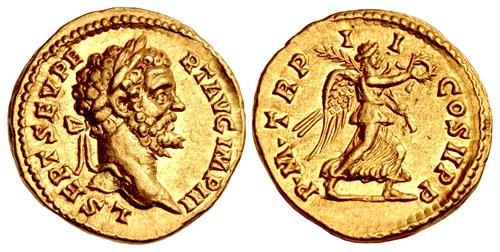 Septimius Severus. AD 193-211. AV Aureus (20mm, 7.23 g, 12h). Rome mint. Struck AD 194.
Triton XXIV
Lot: 1116. Estimated: $ 10 000
Roman Imperial, Gold
Sold For $ 13 000. This amount does not include the buyer's fee.
Septimius Severus. AD 193-211. AV Aureus (20mm, 7.23 g, 12h). Rome mint. Struck AD 194. L SEPT SEV PE RT AVG IMP III, laureate head right / P • M • TR P I I COS II P P, Victory, winged and draped, advancing right, holding wreath in extended right hand and palm frond in left hand over left shoulder. RIC IV 36 corr. (rev. legend omits P P); Calicó 2492 (this coin illustrated); cf. BMCRE p. 32, note *; Biaggi 1086 (this coin); Mazzini 382 (same dies). In NGC encapsulation 4936044-001, graded AU, Strike: 5/5, Surface: 4/5.

From the Grand Haven Collection. Ex Triton XXII (8 January 2019), lot 1123; CNG Inventory 783892 (January 2007); Numismatica Ars Classica 27 (12 May 2004), lot 432; Numismatica Ars Classica 23 (19 March 2002), lot 1598; Leo Biaggi de Blasys Collection, 1086.

This beautiful aureus of Septimius Severus was struck during the early part of his reign, while he was constantly at war against a number of rivals. As such, the representation of Victory is a common type in this period. By virtue of Severus' titles on this coin, particularly his third acclamation as imperator, firmly date this issue to AD 194. While the Victory type is likely a generic representation in the hope of ultimate success over his opponents, it may also refer to the specific victory over the forces of Pescennius Niger at the battle of Nicaea in January of that year.

The final winners of all Triton XXIV lots will be determined during the live online sale that will be held on 19-20 January 2021. This lot is in Session Four, which begins 20 January 2021 at 2 PM ET.

Winning bids are subject to a 20% buyer's fee for bids placed on this website and 22.50% for all others.

We recognize that our users may have various Internet Browsers and Operating Systems. We like our visitors to have the best possible experience when using our bidding platform. However, we do recognize that it is impossible to develop applications that work identically, efficiently and effectively on all web browsers. The CNG bidding platform supports Mozilla Firefox (version 60+) and Chrome (version 67+).