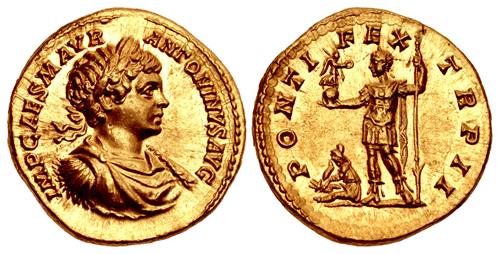 Caracalla. AD 198-217. AV Aureus (19.5mm, 7.49 g, 5h). Rome mint. Struck AD 199.
Triton XXIV
Lot: 1122. Estimated: $ 40 000
Roman Imperial, Gold
Sold For $ 62 000. This amount does not include the buyer's fee.
Caracalla. AD 198-217. AV Aureus (19.5mm, 7.49 g, 5h). Rome mint. Struck AD 199. IMP CAES M AVR ANTONINVS AVG, laureate, draped, and cuirassed bust right / PONTI FEX TR P II, Caracalla, laureate, in military dress, cloak hanging over left shoulder, standing left, holding Victory on globe in extended right hand and reversed, vertical spear in left; to left, captive, wearing peaked cap and long robe, seated left on ground, propping head on right hand; to far left, quiver of arrows. RIC IV 27b; Calicó 2773 (same obv. die as illustration); BMCRE 152 (Septimius and Caracalla, same obv. die); Adda –; Biaggi 1203 (same obv. die); Jameson –; Mazzini –. In NGC encapsulation 4280669-002, graded Gem MS, Strike: 5/5, Surface: 5/5, Fine Style. Rare. Portrait of artistic merit.

From the Grand Haven Collection. Ex Palombo 16 (21 October 2017), lot 54 (hammer CHF 50,000); MDC Monaco 1 (2 December 2016), lot 107; Triton XIX (5 January 2016), lot 597.


The final winners of all Triton XXIV lots will be determined during the live online sale that will be held on 19-20 January 2021. This lot is in Session Four, which begins 20 January 2021 at 2 PM ET.

Winning bids are subject to a 20% buyer's fee for bids placed on this website and 22.50% for all others.

We recognize that our users may have various Internet Browsers and Operating Systems. We like our visitors to have the best possible experience when using our bidding platform. However, we do recognize that it is impossible to develop applications that work identically, efficiently and effectively on all web browsers. The CNG bidding platform supports Mozilla Firefox (version 60+) and Chrome (version 67+).