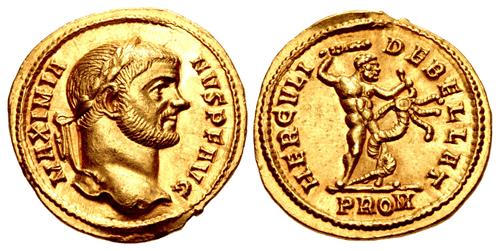 Maximianus. First reign, AD 286-305. AV Aureus (18.5mm, 5.04 g, 6h). Rome mint. Struck AD 294.
Triton XXIV
Lot: 1147. Estimated: $ 20 000
Roman Imperial, Coin-in-Hand Video, Gold
Sold For $ 20 000. This amount does not include the buyer's fee.
Maximianus. First reign, AD 286-305. AV Aureus (18.5mm, 5.04 g, 6h). Rome mint. Struck AD 294. MAXIMIA NVS P F AVG, laureate head right / HERCVLI DEBELLAT, Hercules and the Lernaean Hydra – Hercules, naked, standing right, holding a club overhead with his right hand, grasping one of the heads of the Lernaean Hydra with his left hand, and the Hydra has its main body wrapped around Hercules' left leg; PROM. RIC VI –; Depeyrot 9/7; Calicó 4662 (same rev. die as illustration); Beaurains 168; Adda –; Biaggi 1786 (same rev. die); Jameson –; Mazzini –. Attractively toned, underlying luster. Choice EF. Very rare.

Ex Berk CICF Auction (23 March 1995), lot 248.

For his Second Labor, Hercules had to kill the Lernaean Hydra, the offspring of Typhon and Echidna, and the sibling of the Nemean Lion, the Chimaera, and Kerberos. Inhabiting the swamp near Lake Lerna in the Argolid, the creature possessed numerous mortal and one immortal head on its single body; should one head be removed, two more would grow in its place. When Hercules reached the swamp where the Hydra dwelt, he drew it out of its lair near the spring of Amymone. Thereupon, wielding a harvesting sickle, he attempted to decapitate the creature. When this proved unsuccessful, because of the Hydra's regenerative ability, Hercules enlisted the assistance of his nephew Iolaos, who devised a plan: once Hercules had cut off one of the creature's heads, Iolaos would cauterize the stump with a burning firebrand. The plan succeeded, and the Hydra was destroyed. Hercules placed its one immortal head under a large rock on the sacred way between Lerna and Elaius and dipped his arrows in its poisonous blood.

The final winners of all Triton XXIV lots will be determined during the live online sale that will be held on 19-20 January 2021. This lot is in Session Four, which begins 20 January 2021 at 2 PM ET.

Winning bids are subject to a 20% buyer's fee for bids placed on this website and 22.50% for all others.

We recognize that our users may have various Internet Browsers and Operating Systems. We like our visitors to have the best possible experience when using our bidding platform. However, we do recognize that it is impossible to develop applications that work identically, efficiently and effectively on all web browsers. The CNG bidding platform supports Mozilla Firefox (version 60+) and Chrome (version 67+).