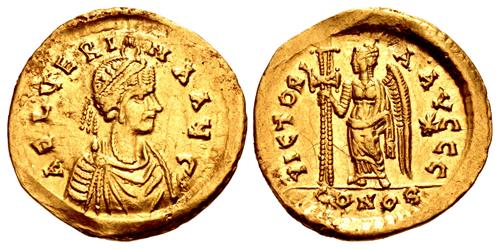 Aelia Verina. Augusta, AD 457-484. AV Solidus (21mm, 4.37 g, 6h). Constantinople mint. Struck under Leo I, AD 471 or 473.
Triton XXIV
Lot: 1162. Estimated: $ 10 000
Roman Imperial, Coin-in-Hand Video, Gold
Sold For $ 20 000. This amount does not include the buyer's fee.
Aelia Verina. Augusta, AD 457-484. AV Solidus (21mm, 4.37 g, 6h). Constantinople mint. Struck under Leo I, AD 471 or 473. AEL ЧERI NA AЧG, pearl-diademed and draped bust right, wearing necklace and earrings; manus Dei holding nimbus above / VICTORI A AVGGG, Victory standing left, holding long jeweled cross with right hand; star in right field; CONOB•. RIC X 633 (same rev. die as illustration, same obv. die as illustration of 632); MIBR 4a; Depeyrot 93/2 (same rev. die as illustration); DOCLR 593 var. (obv. legend). A few scratches and contact marks, some graffiti, edge lightly clipped. Good VF. Rare.

Verina, the wife of Leo I, had an extraordinary personal history, plotting from time to time for and against her various relatives in numerous intrigues to control the succession or seize the throne. The very rare gold coinage in her name is attributed to two separate periods, an earlier issue struck in 462 or 466 and a later issue in 471 or 473. This gold tremissis dates to the former period, in the middle of Leo's long reign. From the scant historical sources, Verina appears to have been the consummate imperial schemer who regularly instigated and switched sides in various deadly dynastic disputes without suffering any consequences for her actions. She retired to a nunnery in AD 480, but emerged in AD 484 for one final intrigue against her son-in-law Zeno. This, too, failed and Verina died in the aftermath; whether or not by violence is not recorded.

The final winners of all Triton XXIV lots will be determined during the live online sale that will be held on 19-20 January 2021. This lot is in Session Four, which begins 20 January 2021 at 2 PM ET.

Winning bids are subject to a 20% buyer's fee for bids placed on this website and 22.50% for all others.

We recognize that our users may have various Internet Browsers and Operating Systems. We like our visitors to have the best possible experience when using our bidding platform. However, we do recognize that it is impossible to develop applications that work identically, efficiently and effectively on all web browsers. The CNG bidding platform supports Mozilla Firefox (version 60+) and Chrome (version 67+).