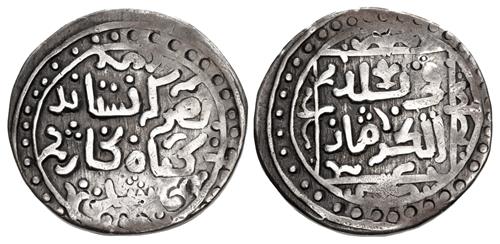 ISLAMIC, Mongols. Great Khans. temp. Ögedei. AH 624-639 / AD 1227-1241. BI Multiple Dirham (33mm, 15.92 g, 6h). al-Kurraman mint.
Triton XXIV
Lot: 1231. Estimated: $ 10 000
Early Medieval & Islamic, Billon, Coin-in-Hand Video
Sold For $ 20 000. This amount does not include the buyer's fee.
ISLAMIC, Mongols. Great Khans. temp. Ögedei. AH 624-639 / AD 1227-1241. BI Multiple Dirham (33mm, 15.92 g, 6h). al-Kurraman mint. har ki nagirad gunahkar in Persian in three lines; all within double linear and pelleted border with ornaments / fī balad/al-kurraman in Arabic in two lines; all within linear quadrate border within double linear and pelleted border; ornaments in voids. Cf. Morton & Eden 18 (7 March 2006), lot 51 (AV dinar); cf. M. Federov; otherwise, unpublished. Possibly removed from a mount. Toned. VF. Extremely rare and considerable interest.

This previously unknown coin adds important information to the coinage record of the mineral rich Kurram Valley. According to the Encylopædia of Islam this valley is a thin wedge of territory, through which the Kurram River, a tributary of the Indus River, flows. It is some seventy miles long and covers an area of 1,305 square miles on the border between Afghanistan and Pakistan. From the legends on the coin it would appear that the town of Kurraman was a largely independent, self-governing territory whose strategic position facilitated trade and communication between Afghanistan and the Indus Valley. This is made clear because the town's exceedingly rare coinage is totally anonymous, and owes allegiance to no political entity. However, this coin was almost certainly struck during the reign of the Mongol Great Khan Ogedei, and Kurraman could be said to exist in the shadow of his distant rule (c. 624-639h). The legends on all the coins from the Kurraman mint at this time, whether gold, copper and now silver, are always identical. This coinage does not appear to have been struck by any individual political authority, and apart from the name of the mint itself, it does not bear the usual name of a ruler or the year of its striking. Thus, it depended for its acceptance on the prestige of the Kurraman mint, the high quality of its metal and the phrase in Persian (the lingua franca of this region and age), "Whoever does not accept this coin is a sinner," which admonished those who might object to using it because they were put off by its anonymity. This is the first recorded silver coin of this type from the Kurraman mint. It's weight is heavier than that of the coins usually found in the region. It could be catagorized as an early example of a silver tanka before the weight of this denomination was fixed by later rulers in Afghanistan and India to facilitate trade. The purchase of this piece would be a remarkable opportunity for a collector or institution to acquire a unique example of this extraordinary rare, and previously unknown, coinage.

The final winners of all Triton XXIV lots will be determined during the live online sale that will be held on 19-20 January 2021. This lot is in Session Four, which begins 20 January 2021 at 2 PM ET.

Winning bids are subject to a 20% buyer's fee for bids placed on this website and 22.50% for all others.

We recognize that our users may have various Internet Browsers and Operating Systems. We like our visitors to have the best possible experience when using our bidding platform. However, we do recognize that it is impossible to develop applications that work identically, efficiently and effectively on all web browsers. The CNG bidding platform supports Mozilla Firefox (version 60+) and Chrome (version 67+).