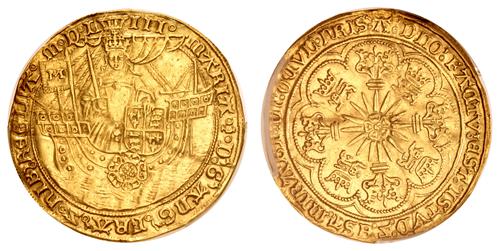 TUDOR. Mary. 1553-1554. AV Ryal (36mm, 7.62 g, 3h). London mint; im: pomegranate. Dated 1553 (in Roman numerals).
Triton XXIV
Lot: 1396. Estimated: $ 75 000
British, Gold
Sold For $ 135 000. This amount does not include the buyer's fee.
TUDOR. Mary. 1553-1554. AV Ryal (36mm, 7.62 g, 3h). London mint; im: pomegranate. Dated 1553 (in Roman numerals). mΛRIΛ · (pomegranate) · D' · G' ΛnG' · FRΛ' · (retrograde Z) · hIB' · RЄGInΛ · m · D · L III (annulet stops), Mary, holding sword in left hand and shield in right, standing facing in ship, with rose on side and flag at stern, sailing right / Λ : DnO' · FΛCTV' · ЄST : ISTVD : Z : ЄST · mIRΛBI' · In' · OCVL' · nRIS' ·(annulet stops), radiant sun, with rose in center, over floreate cross with lis at ends; in each quarter, crown above lion passant left; all within tressure of eight arches. Schneider 709 (same dies); North 1957; SCBC 2489. In PCGS encapsulation 32942889, graded AU55. Extremely rare and with an impressive pedigree.

From the Jonathan P. Rosen Collection. Ex Heritage 3048 (11 August 2016), lot 32293; St. James's 33 (20 May 2015), lot 97; Spink 211 (13 December 2011), lot 92; V. J. E. Ryan (Part 1, Glendining, 28 June 1950), lot 260; B. Roth (Sotheby, Wilkinson & Hodge, 19 July 1917), lot 274; A.W. Hankin (Sotheby, Wilkinson & Hodge, 29 March 1900), lot 274.

A classic rarity in the English series, the Mary Ship Ryal is admired for its depiction of serene majesty. Mary guides the ship of state back to the calm waters of the old order and the Roman Catholic Church. Beautiful and elusive, it is believed there are only seven examples in private hands.

Valentine Ryan's superb collection of gold coins included a matchless set of Tudor Ship Ryals. His Henry VII Ryal (the finest known and now in the ANS), sold for a record £1050. His Mary (this coin) sold for £275 and his extremely fine Elizabeth I sold for £125.

The final winners of all Triton XXIV lots will be determined during the live online sale that will be held on 19-20 January 2021. This lot is in Session Four, which begins 20 January 2021 at 2 PM ET.

Winning bids are subject to a 20% buyer's fee for bids placed on this website and 22.50% for all others.

We recognize that our users may have various Internet Browsers and Operating Systems. We like our visitors to have the best possible experience when using our bidding platform. However, we do recognize that it is impossible to develop applications that work identically, efficiently and effectively on all web browsers. The CNG bidding platform supports Mozilla Firefox (version 60+) and Chrome (version 67+).