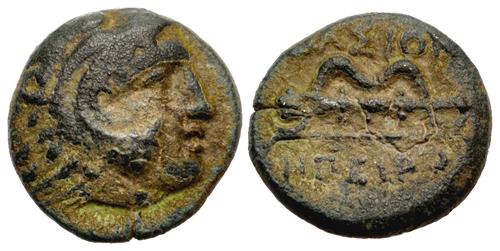 MACEDON, Philippi (as Thasian Epeiros [Krenides]). Circa 360/59-356 BC. Æ (10mm, 1.22 g, 9h).
Electronic Auction 484
Lot: 118. Estimated: $ 150
Greek, Bronze
Sold For $ 130. This amount does not include the buyer's fee.
MACEDON, Philippi (as Thasian Epeiros [Krenides]). Circa 360/59-356 BC. Æ (10mm, 1.22 g, 9h). Head of Herakles right, wearing lion skin / Club and bow; ΘAΣION above, HΠEIPO below. Bellinger, Philippi 2; Le Rider, Thasiennes 29; AMNG II/2, 1; HGC 3, 626. Green patina, minor flan flaws. VF.

Krenides was a small colony of Thasos established on the plain of Philippoi, circa 360/59 BC (Diodoros, XVI 3.7). In 357 BC, these colonists appealed to Philip II of Macedon for aid against the local Thracians, who were attempting to oust the non-native Thasians (Stephanos of Byzantium, s.v. Φιλιπποι). Shortly after Philip defeated the Thracians, he refounded Krenides as Philippoi, and settled a number of Macedonians there, who soon began to issue coinage in the name of the new city. Two series of coinage have been attributed to the city's early period, while it was a Thasian colony. Both types feature the lion skin clad head of Herakles on their obverse and the legend ΘAΣION HΠEIPO (or EΠEIPO). On the reverse, one series, only known in bronze, has a club and bow (as the present coin), while the other series, known in gold and bronze, has a tripod (Le Rider, Thasiennes 28-30). This second series is fundamental in establishing the placement of these coins at Krenides, as the staters are virtually identical in all respects to the staters of Philippoi, except for their ethnic. (See also B. Isaac, The Greek Settlements in Thrace until the Macedonian Conquest [Leiden: Brill, 1986], pp. 49-50.)

Closing Date and Time: 27 January 2021 at 10:39:00 ET.

All winning bids are subject to an 18% buyer's fee.