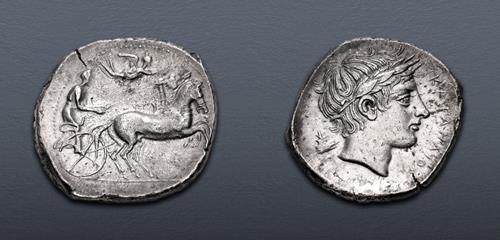 SICILY, Katane. Circa 435-412 BC. AR Tetradrachm (27.5mm, 16.80 g, 9h). Reverse die signed by the "Maestro della foglia.".
CNG Feature Auction 117
Lot: 38. Estimated: $ 7 500
Greek, Coin-in-Hand Video, Silver
Sold For $ 9 000. This amount does not include the buyer's fee.
SICILY, Katane. Circa 435-412 BC. AR Tetradrachm (27.5mm, 16.80 g, 9h). Reverse die signed by the "Maestro della foglia.". Charioteer, wearing long chiton, holding kentron in left hand and reins in both, driving fast quadriga of horses right; above, Nike flying right, crowning horses with wreath held in both hands / Head of Apollo right, wearing laurel wreath; plane leaf to left (signature), KATANAION to right. Mirone –; HGC 2, 572 (same dies as illustration); SNG ANS 1256 (same dies); SNG Lloyd 898 (same dies); Basel –; Dewing –; Gillet 392 (same dies); Gulbenkian 185 = Jameson 541 (same dies); Hunt –; Pozzi 417 (same dies); Rizzo pl. XII, 11 (same dies); de Sartiges –. Toned, trace deposits, some light porosity. EF. Well struck on a broad flan. An excellent example of this rare issue.

During the second half of the 5th century the design of the Katanian tetradrachms underwent a radical change with the introduction of a racing chariot on the obverse and a head of Apollo on the reverse. While reflecting dramatic stylistic developments, these types were to remain relatively unchanged down to the time of the capture of the city in 404 BC by Dionysios, tyrant of Syracuse, who sold the population into slavery. The "Maestro della foglia" or "Master of the Leaf" is the appellation that Rizzo gave to the master engraver who began the transformation of Katanian coin design. The driver and horses come alive, as if they truly are trying to win the race, rather than merely posing. The face of Apollo begins to carry a hint of a bemused expression, and his locks of hair become more unruly. Over the course of the next decade the successors to this master – Euainetos, Herakleidas, and Choirion – would produce their own unrivaled masterpieces.

The final winners of all CNG Feature Auction 117 lots will be determined during the live online sale that will be held on 19-20 May 2021. This lot is in Session 1, which begins 19 May 2021 at 9 AM ET.

Winning bids are subject to a 20% buyer's fee for bids placed on this website and 22.50% for all others.

We recognize that our users may have various Internet Browsers and Operating Systems. We like our visitors to have the best possible experience when using our bidding platform. However, we do recognize that it is impossible to develop applications that work identically, efficiently and effectively on all web browsers The CNG bidding platform supports Mozilla Firefox (version 86+) and Chrome (version 88+).