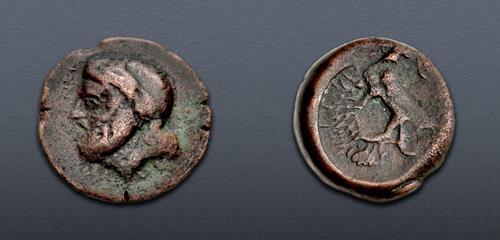 ISLANDS off ILLYRIA, Issa. Circa 344-300 BC. Æ (26mm, 17.15 g, 5h).
CNG Feature Auction 117
Lot: 114. Estimated: $ 1 500
Greek, Coin-in-Hand Video, Bronze
Sold For $ 3 000. This amount does not include the buyer's fee.
ISLANDS off ILLYRIA, Issa. Circa 344-300 BC. Æ (26mm, 17.15 g, 5h). Youthful head of the Hero Ionios left; 5o@5os to left, along forehead / Head of lion right. H. Göricke-Lukić Hermine, J. Jeličić Radonić, Mirnik Ivan FAROS III : Grčki, grčko-ilirski i rimski novac (Split 2017), p. 103, no. 3. J. Brunšmid, Die Inschriften und Münzen der griechischen Städte Dalmatiens (Vienna, 1898), p. 61, 6; F. Imhoof-Blumer, "Griechische Münzen aus dem Museum in Klagenfurt und anderen Sammlungen" in NZ 16 (1884), 69; otherwise unpublished in the standard references. Green-brown patina, overstruck on an issue of Pharos (also a rare type) with head of Zeus/standing goat type (most of the goat still visible). VF. Extremely rare, with only two in private hands of just 28 coins recorded, all struck from the same obverse die. One of the finest of the type known; with most showing little or no inscription, and with poorly struck heads of Ionios.

For another example from this series, but with a slightly different obverse type, see P. Visonà, "Monete greche d'Illiria nella collezione del civico museo di storia ed arte di Trieste" in RIN 111 (2010), 6. This article also contains details on the current state of research on the coinage of Issa, which has been slightly modified in P. Visonà, "Škudljivac Redux. New Data on IGCH 418-420" in Vjesnik Arheološkog muzeja u Zagrebu 45.1 (2013). This is only the second of the type to be sold at auction, the other listing being CNG Electronic Auction 359, lot 21 (hammer $2100).

P. Visonà suggests that this rare type was minted by Greek settlers on the island of Vis or ancient Issa. This city was founded by Dionysios the Elder, tyrant of Syracuse in the 380s BC as part of a program to facilitate trade in the region and establish control over the Adriatic for Syracuse. He founded Ancona, Adria, and Issa as part of this program. This series was likely minted a bit later after Dionysios II was ousted from power and the inhabitants overstruck their new coins on the types of nearby Pharos. This can be dated to 340-325 BC, right before the beginning of Issa's civic coinage. [CNG thanks P. Visonà for his assistance in cataloging this rare issue.]

The final winners of all CNG Feature Auction 117 lots will be determined during the live online sale that will be held on 19-20 May 2021. This lot is in Session 1, which begins 19 May 2021 at 9 AM ET.

Winning bids are subject to a 20% buyer's fee for bids placed on this website and 22.50% for all others.

We recognize that our users may have various Internet Browsers and Operating Systems. We like our visitors to have the best possible experience when using our bidding platform. However, we do recognize that it is impossible to develop applications that work identically, efficiently and effectively on all web browsers The CNG bidding platform supports Mozilla Firefox (version 86+) and Chrome (version 88+).