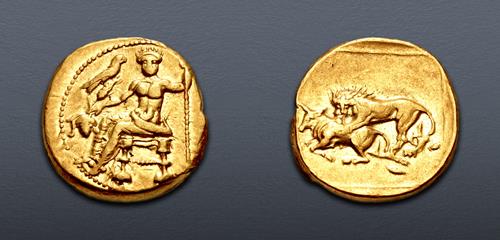 PERSIA, Alexandrine Empire. Mazaios. Satrap of Babylon, circa 331-328 BC. AV Double Daric (21mm, 17.12 g, 12h).
CNG Feature Auction 117
Lot: 322. Estimated: $ 20 000
Greek, Coin-in-Hand Video, Gold
Sold For $ 22 000. This amount does not include the buyer's fee.
PERSIA, Alexandrine Empire. Mazaios. Satrap of Babylon, circa 331-328 BC. AV Double Daric (21mm, 17.12 g, 12h). Baal seated half-left, head and torso facing, right hand holding long scepter set on ground to right, left hand extended, holding grain ear and grape bunch on vine, upon which stands an eagle right with wings folded / Lion left, grasping the back of a bull couchant left, and biting into its neck; all in linear square frame within shallow incuse square. F. Holt & O. Bopearachchi, The Alexander Medaillion (2011), note 106; ibid. figs. 51–2 var. = Miho Museum, Treasures of Ancient Bactria (2002), 44 a–b var. (rev. type right); see Heritage 3073, lot 30206 for an inferior example struck from the same dies. For Mazaios' Cilician silver prototype, cf. SNG Levante 100–6, and for similar local issues of the same type struck contemporaneously with this gold, cf. SNG BN 352–3. Struck from somewhat worn dies. Good VF. Very rare, one of fewer than 10 known examples.

This extraordinary gold issue, unknown until the discovery of two examples in the Mir Zakah II deposit, bears the familiar types used by Mazaios as satrap of Cilicia for his silver staters, but without the usual legend and monograms. Mazaios was appointed satrap of Cilicia about 361 BC, and the region known as 'Across the River' (modern Syria, Lebanon, and Israel) was later added to his domain. In 331 BC, as Alexander marched into the heart of the Persian Empire, Mazaios at first led a spirited resistance, then abruptly surrendered Babylon to him and switched sides. Alexander rewarded Mazaios by retaining him as governor, a position he held until his death in 328 BC. Alexander made Babylon one of his most important mints, where a large quantity of regular 'imperial' coinage was struck. Babylon also produced a substantial group of local coinages, and it is among these that the present type is to be placed. Persian gold was routinely issued without legend, as were many of Mazaios' standard double darics of the 'running king' type (MIG Type 14 = BMC Persia XX, 1). Perhaps it was an initial emergency issue that was later superseded, or perhaps it was a local variation for a special purpose.

The final winners of all CNG Feature Auction 117 lots will be determined during the live online sale that will be held on 19-20 May 2021. This lot is in Session 2, which begins 19 May 2021 at 2 PM ET.

Winning bids are subject to a 20% buyer's fee for bids placed on this website and 22.50% for all others.

We recognize that our users may have various Internet Browsers and Operating Systems. We like our visitors to have the best possible experience when using our bidding platform. However, we do recognize that it is impossible to develop applications that work identically, efficiently and effectively on all web browsers The CNG bidding platform supports Mozilla Firefox (version 86+) and Chrome (version 88+).