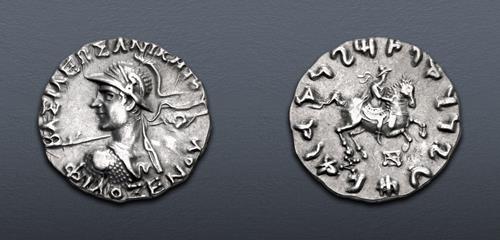 BAKTRIA, Indo-Greek Kingdom. Philoxenos Aniketos. Circa 125-110 BC. AR Tetradrachm (27mm, 9.88 g, 12h).
CNG Feature Auction 117
Lot: 352. Estimated: $ 1 500
Oriental Greek, Silver
Sold For $ 2 500. This amount does not include the buyer's fee.
BAKTRIA, Indo-Greek Kingdom. Philoxenos Aniketos. Circa 125-110 BC. AR Tetradrachm (27mm, 9.88 g, 12h). Diademed heroic bust left, wearing crested helmet covered with pelt of scales and adorned with trace of Gorgon's head and wing, aegis, and brandishing spear in right hand / Philoxenos, in military attire, on horse rearing right on ground line; Σ below, monogram to upper left. Bopearachchi 9C; HGC 12, –. A few light cleaning scratches, minor die breaks. Good VF. Extremely rare with the helmet adorned with the Gorgon head and wing.

Like most Indo-Greek rulers, Philoxenos "The Invincible" is unknown to history aside from his coinage. He struck extremely rare coins on the Attic standard and a much larger bilingual issue on the reduced Indian standard; these are found primarily in the Punjab and Gandhara, where his reign seems to have been centered. The scarcity of his coinage indicates his reign must have been of brief to moderate duration. Bopearachchi dates his reign to circa 100-95 BC; Oliver Hoover in HGC 9 dates it somewhat earlier, 125-110 BC. The obverse of this rare issue is clearly modeled on the great "heroic bust" tetradrachms of Eukratides, but with some innovations, including the elaborate aegis over his lead shoulder and the decorations on his helmet, which repeat the aegis motif.

The final winners of all CNG Feature Auction 117 lots will be determined during the live online sale that will be held on 19-20 May 2021. This lot is in Session 2, which begins 19 May 2021 at 2 PM ET.

Winning bids are subject to a 20% buyer's fee for bids placed on this website and 22.50% for all others.

We recognize that our users may have various Internet Browsers and Operating Systems. We like our visitors to have the best possible experience when using our bidding platform. However, we do recognize that it is impossible to develop applications that work identically, efficiently and effectively on all web browsers The CNG bidding platform supports Mozilla Firefox (version 86+) and Chrome (version 88+).