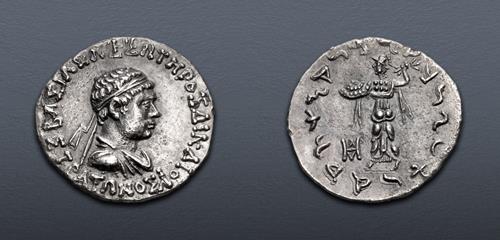 BAKTRIA, Indo-Greek Kingdom. Strato I Soter. Circa 105-85/0 BC. AR Tetradrachm (27.5mm, 9.31 g, 12h).
CNG Feature Auction 117
Lot: 356. Estimated: $ 1 500
Oriental Greek, Silver
Sold For $ 1 300. This amount does not include the buyer's fee.
BAKTRIA, Indo-Greek Kingdom. Strato I Soter. Circa 105-85/0 BC. AR Tetradrachm (27.5mm, 9.31 g, 12h). Diademed and draped beardless bust right; one diadem tie angled / Athena Alkidemos standing left, brandishing thunderbolt and aegis; monogram to inner left. Bopearachchi 21A; Haughton, Silver 2; HGC 12, 328. Toned, minor surface marks and areas of roughness. Near EF. Struck on a broad flan.

Like most Indo-Greek rulers, Strato I Soter Dikaios ("savior" and "the just") is unknown to history apart from his coins, which suggest his rule encompassed Gandhara and the Punjab. His earliest coins show a youthful bust cojoined with that of a woman named Agathokleia, possibly his mother, who may have ruled as regent during his minority (see previous lot). His solo portraits show a somewhat older visage, eventually acquiring a beard (although a new theory posits that the bearded portrait depicts a different king of the same name, possibly Agathokleia's brother). Athena appears in several poses on the reverses of his coins, here in the traditional stance of Athena Alkidemos, preparing to hurl a thunderbolt.

The final winners of all CNG Feature Auction 117 lots will be determined during the live online sale that will be held on 19-20 May 2021. This lot is in Session 2, which begins 19 May 2021 at 2 PM ET.

Winning bids are subject to a 20% buyer's fee for bids placed on this website and 22.50% for all others.

We recognize that our users may have various Internet Browsers and Operating Systems. We like our visitors to have the best possible experience when using our bidding platform. However, we do recognize that it is impossible to develop applications that work identically, efficiently and effectively on all web browsers The CNG bidding platform supports Mozilla Firefox (version 86+) and Chrome (version 88+).