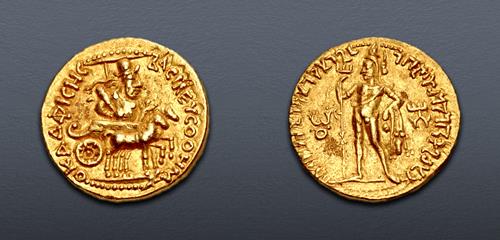 INDIA, Kushan Empire. Vima Kadphises. Circa AD 113-127. AV Dinar (21mm, 8.05 g, 12h). Main mint in Baktria.
CNG Feature Auction 117
Lot: 367. Estimated: $ 20 000
Central Asian featuring The Archytas Collection, Coin-in-Hand Video, Gold
Sold For $ 36 000. This amount does not include the buyer's fee.
INDIA, Kushan Empire. Vima Kadphises. Circa AD 113-127. AV Dinar (21mm, 8.05 g, 12h). Main mint in Baktria. BACIΛЄYC OOHM O KAΔΦICHC, diademed and crowned figure of Vima Kadphises, cradling club in left arm, seated right in canopied chariot drawn by pair of horses; miniature charioteer before Vima, holding whip / Maharajasa rajadirajasa loga'iśvaraja maha'iśvarasa vima kathpiśasa in Kharosthi, ithyphallic Siva with two heads (mustached human and horned animal) standing facing, human head left, holding trident in right hand and water flask in left; left arm draped with animal skin; Buddhist Triratana (Three Jewels) to left; tamgha to right. Bopearachchi, Premiers, Série VII, 10 = Bopearchchi, Some 3 (same dies); MK 5 (O1/R1); ANS Kushan 265; Donum Burns –; Adams IV 2125 (same dies). Small earthen deposits on obverse. Good VF. Very rare.

This dinar shows Vima Kadphises in a parasoled chariot, drawn by two horses. It is strikingly similar to a similar chariot (drawn by four horses), discovered among the Terracotta Army that was part of the tomb complex of the Chinese emperor Qin Shi Huang (259-210 BC). Initially, chariots served a military function. As weapons technology changed, making the chariot outdated, it continued to be used among the nobility as a means of transportation and a reflection of their wealth and power. For the Kushan rulers, use of this of technology would not only have been familiar because of their Yueh-Chi ancestry, but also reflected their adaptation of various regional cultures.

The final winners of all CNG Feature Auction 117 lots will be determined during the live online sale that will be held on 19-20 May 2021. This lot is in Session 2, which begins 19 May 2021 at 2 PM ET.

Winning bids are subject to a 20% buyer's fee for bids placed on this website and 22.50% for all others.

We recognize that our users may have various Internet Browsers and Operating Systems. We like our visitors to have the best possible experience when using our bidding platform. However, we do recognize that it is impossible to develop applications that work identically, efficiently and effectively on all web browsers The CNG bidding platform supports Mozilla Firefox (version 86+) and Chrome (version 88+).