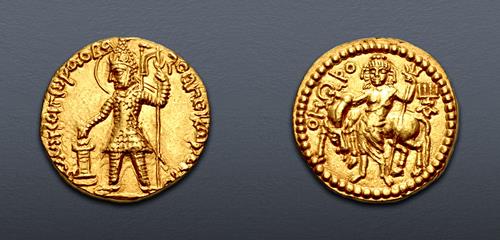 INDIA, Kushan Empire. Vasudeva I. Circa AD 192-225. AV Dinar (20.5mm, 8.00 g, 12h). Main mint in Baktria (Balkh?). Early phase.
CNG Feature Auction 117
Lot: 387. Estimated: $ 5 000
Central Asian featuring The Archytas Collection, Coin-in-Hand Video, Gold
Sold For $ 9 500. This amount does not include the buyer's fee.
INDIA, Kushan Empire. Vasudeva I. Circa AD 192-225. AV Dinar (20.5mm, 8.00 g, 12h). Main mint in Baktria (Balkh?). Early phase. ÞαO(retrograde h)α(retrograde h)OÞαO Bα ZOαkO KOÞ(retrograde h)O, Vasudeva, nimbate, helmeted, and diademed, standing facing, head left, holding trident, sacrificing over altar to left; filleted trident to left / OhÞO to left, three-headed Siva standing facing, holding a garland or diadem in extended right hand and trident in left; behind, the bull Nandi standing left with head bowed right in supplication towards Siva's feet to right; tamgha to upper left. MK 501 (O1/R4) Cribb & Bracey F.G1i = FdS 266 = Rosenfield 208 = BM Inv. 1879,0501.91; Cunningham 8 (same rev. die); ANS Kushan –; cf. Donum Burns 503 (for type); Triton XX, lot 437 (same dies). Light toning, hint of deposits in devices, slight double strike on obverse. Good VF. Extremely rare, one of four examples known from this die pair.

From the Archytas Collection.

In the traditional henotheistic view of Hinduism, Siva is one part of the Trimurti, the three aspects which make up the supreme godhead (the other two being Brahma, the Creator, and Visnu, the preserver). On Kushan coins depicting Siva, the god is sometimes portrayed as a figure with a tripartite head and in association with Nandi, the bull of happiness and strength. Here, Nandi bows to Sivs, indicating that happiness and strength is subject to the supreme godhead.

The final winners of all CNG Feature Auction 117 lots will be determined during the live online sale that will be held on 19-20 May 2021. This lot is in Session 2, which begins 19 May 2021 at 2 PM ET.

Winning bids are subject to a 20% buyer's fee for bids placed on this website and 22.50% for all others.

We recognize that our users may have various Internet Browsers and Operating Systems. We like our visitors to have the best possible experience when using our bidding platform. However, we do recognize that it is impossible to develop applications that work identically, efficiently and effectively on all web browsers The CNG bidding platform supports Mozilla Firefox (version 86+) and Chrome (version 88+).