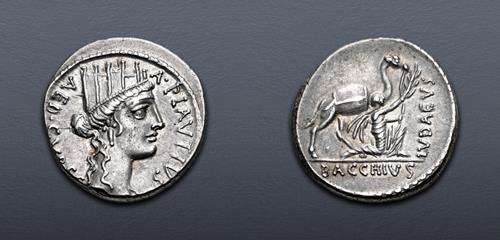 A. Plautius. 55 BC. AR Denarius (17mm, 4.06 g, 6h). Rome mint.
CNG Feature Auction 117
Lot: 449. Estimated: $ 750
Roman Republican, Silver
Sold For $ 1 600. This amount does not include the buyer's fee.
A. Plautius. 55 BC. AR Denarius (17mm, 4.06 g, 6h). Rome mint. Turreted head of Cybele right / Bacchius Judaeus (Aristobulus II, High Priest and King of Judaea) kneeling right, holding reins and offering up olive branch; behind, camel standing right. Crawford 431/1; Sydenham 932; Plautia 13; RBW 1540. Hint of iridescent toning. EF. Exceptional reverse.

The enigmatic "Bacchius the Jew" depicted in supplication on the reverse has been plausibly identified by Michael Harlan as the Judaean high priest Aristobulus II, who was deposed by Pompey the Great after his siege of Jerusalem in 63 BC. Aristobulus was taken captive and later marched through the streets of Rome in Pompey's triumph. In 57 BC, he escaped captivity and returned to Judaea, where he led a failed insurrection against Pompey's choice for high priest, Hyrcanus. Captured again by Pompey's general Gabinius, Aristobulus was shipped back to Rome in chains in 56 BC. The moneyer, Aulus Plautius, is known to have been a partisan of Pompey's and was elected Curule Aedile in 55 BC; his choice of coin types suggests he served under Pompey in the eastern campaign. As Harlan points out, Aristobulus was surely the most famous Jew in Rome at the time of this coin's issue and the most likely candidate for the kneeling figure on the reverse.

The final winners of all CNG Feature Auction 117 lots will be determined during the live online sale that will be held on 19-20 May 2021. This lot is in Session 2, which begins 19 May 2021 at 2 PM ET.

Winning bids are subject to a 20% buyer's fee for bids placed on this website and 22.50% for all others.

We recognize that our users may have various Internet Browsers and Operating Systems. We like our visitors to have the best possible experience when using our bidding platform. However, we do recognize that it is impossible to develop applications that work identically, efficiently and effectively on all web browsers The CNG bidding platform supports Mozilla Firefox (version 86+) and Chrome (version 88+).