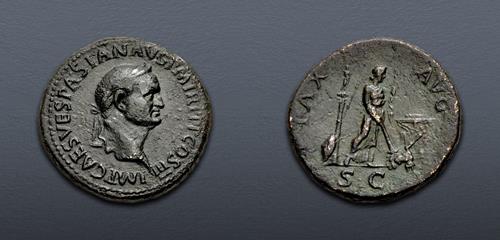 Vespasian. AD 69-79. Æ Sestertius (34mm, 27.03 g, 6h). Rome mint. Struck AD 71.
CNG Feature Auction 117
Lot: 506. Estimated: $ 1 500
Roman Imperial, Bronze
Sold For $ 5 000. This amount does not include the buyer's fee.
Vespasian. AD 69-79. Æ Sestertius (34mm, 27.03 g, 6h). Rome mint. Struck AD 71. Laureate head right / Pax standing right, holding branch with left hand, and with torch in right, she sets fire to a pile of arms on ground; to left, statue of Minerva on tall column; to right, garlanded and lighted altar. RIC II.1 179 (R2). Green-brown surfaces, some roughness. VF. Very rare, only one in CoinArchives (Triton XX, lot 688).

This most unorthodox representation of Pax belongs to the large and important series of aes issued in AD 71, the year that witnessed the joint triumph of Vespasian and Titus through the streets of Rome in celebration of their victory in Judaea. At this time, the Roman Empire had experienced five straight years of warfare, which had devastated the economy and threatened the very foundations of the empire. The goddess of peace here holds a flaming torch with which she sets fire to a heap of arms, the spoils of Rome's defeated enemies. This symbolic act was carried out in fulfillment of a vow undertaken to Rome's principal deities of war, Mars and Minerva. A statue of the latter appears atop a column accompanying the scene of celebration. The hope was that with the cessation of hostilities, the Roman people could now enjoy a period of tranquility under Flavian rule.

The final winners of all CNG Feature Auction 117 lots will be determined during the live online sale that will be held on 19-20 May 2021. This lot is in Session 2, which begins 19 May 2021 at 2 PM ET.

Winning bids are subject to a 20% buyer's fee for bids placed on this website and 22.50% for all others.

We recognize that our users may have various Internet Browsers and Operating Systems. We like our visitors to have the best possible experience when using our bidding platform. However, we do recognize that it is impossible to develop applications that work identically, efficiently and effectively on all web browsers The CNG bidding platform supports Mozilla Firefox (version 86+) and Chrome (version 88+).