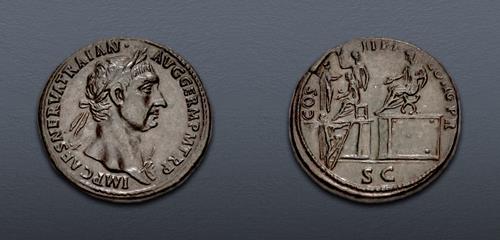 Trajan. AD 98-117. Æ Sestertius (34mm, 26.41 g, 7h). Rome mint. Struck AD 98-99.
CNG Feature Auction 117
Lot: 520. Estimated: $ 1 500
Roman Imperial, Bronze
Sold For $ 2 250. This amount does not include the buyer's fee.
Trajan. AD 98-117. Æ Sestertius (34mm, 26.41 g, 7h). Rome mint. Struck AD 98-99. Laureate bust right, wearing aegis / Congiarium (cash distribution) scene: Trajan seated left on curule chair set on platform on right, extending right hand in front of him on a second platform is an officer seated left, and before him, a man standing right, holding out fold of toga; to left, citizen mounting steps to the second platform; in background, Liberalitas standing holding abacus in right hand. RIC II 381; Woytek 64c; Banti 43. Glossy brown patina, smoothing in fields. Near EF. Rare, particularly so in high grade.

Shortly after his first entry into Rome as emperor in early AD 99, Trajan staged a congiarium, or cash distribution, to solidify his position as successor to the aged, and somewhat parsimonious, Nerva. This distribution, depicted on this sestertius, reportedly amounted to 75 silver denarii or 300 sesterces per citizen-- in modern terms, equivalent to roughly $1,500. After the huge financial windfall occasioned by the Dacian wars, Trajan held two further congiaria, this time amounting to the princely sum of 650 denarii (roughly $13,000) per citizen. These distributions can be thought of as an ancient version of the modern "stimulus check,' as recently offered by the U.S. government in the form of pandemic relief.

The final winners of all CNG Feature Auction 117 lots will be determined during the live online sale that will be held on 19-20 May 2021. This lot is in Session 2, which begins 19 May 2021 at 2 PM ET.

Winning bids are subject to a 20% buyer's fee for bids placed on this website and 22.50% for all others.

We recognize that our users may have various Internet Browsers and Operating Systems. We like our visitors to have the best possible experience when using our bidding platform. However, we do recognize that it is impossible to develop applications that work identically, efficiently and effectively on all web browsers The CNG bidding platform supports Mozilla Firefox (version 86+) and Chrome (version 88+).