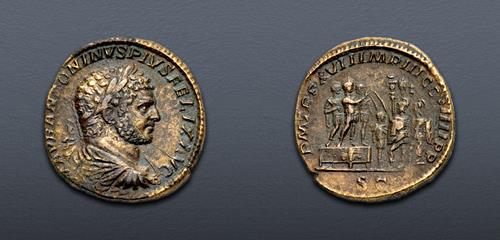 Caracalla. AD 198-217. Æ Sestertius (29.5mm, 23.84 g, 12h). Rome mint. Struck AD 214.
CNG Feature Auction 117
Lot: 579. Estimated: $ 3 000
Roman Imperial, Coin-in-Hand Video, Bronze
Sold For $ 3 250. This amount does not include the buyer's fee.
Caracalla. AD 198-217. Æ Sestertius (29.5mm, 23.84 g, 12h). Rome mint. Struck AD 214. Laureate, draped, and cuirassed bust right / "Adlocutio" scene: Caracalla, in military dress, standing right on low platform on left, raising right hand; with him on platform, to his left, officer standing right, to his right, officer standing facing; to right, Dacian bodyguard in short tunic and cloak standing right, holding falx, a second falx behind; to far right, two soldiers, helmeted in military dress, standing left, each holding an aquila in right hand and oblong shield in left; vexillum behind. RIC IV 525c; Banti 58; BMCRE p. 480, †. Toned brass surfaces with areas of green encrustation, flan crack. Near EF. Very rare.

In AD 214, the emperor Caracalla mustered a large legionary force intent on invading the rival Parthian Kingdom, which was riven by dynastic disputes. This sestertius depicts Caracalla and his officers atop a platform, addressing his soldiers prior to battle. An interesting feature is the presence of a guardsman standing at the foot of the platform, armed with a long, curved weapon, facing the mass of soldiery. The presence of another weapon behind implies there are several such bodyguards present. These are certainly a Dacian imperial guard, armed with their native weapon, a deadly two-handed sickle sword called the falx. Little is known about this elite unit aside from their appearance on coins and monuments of the late second and third centuries AD. The first Dacian unit in the Roman Army was Cohors I Aelia Dacorum, raised by Hadrian and stationed in northern Britannia. The Dacians depicted here, however, are clearly a different unit serving specifically as imperial guards, perhaps as a counterweight to the Praetorians. In the first century BC/AD, the German guard had performed a similar function. The Dacian guards are seen in a similar pose on the Column of Marcus Aurelius, indicating the unit was in place by the AD 170s.

The final winners of all CNG Feature Auction 117 lots will be determined during the live online sale that will be held on 19-20 May 2021. This lot is in Session 2, which begins 19 May 2021 at 2 PM ET.

Winning bids are subject to a 20% buyer's fee for bids placed on this website and 22.50% for all others.

We recognize that our users may have various Internet Browsers and Operating Systems. We like our visitors to have the best possible experience when using our bidding platform. However, we do recognize that it is impossible to develop applications that work identically, efficiently and effectively on all web browsers The CNG bidding platform supports Mozilla Firefox (version 86+) and Chrome (version 88+).