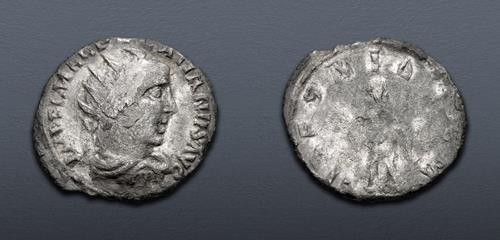 Pacatian. Usurper, circa AD 248-249. AR Antoninianus (22mm, 2.91 g, 6h). Viminacium mint.
CNG Feature Auction 117
Lot: 595. Estimated: $ 3 000
Roman Imperial, Coin-in-Hand Video, Silver
Sold For $ 2 750. This amount does not include the buyer's fee.
Pacatian. Usurper, circa AD 248-249. AR Antoninianus (22mm, 2.91 g, 6h). Viminacium mint. IMP TI MAR PACATIANVS AVG, radiate, draped, and cuirassed bust right / FIDES MIL[ITV]M, Fides standing left, holding signum in each hand. Cf. RIC IV 3; cf. Szaivert, Beginn 5; cf. RSC 4. Toned, typical porosity and crude strike, some chipping at edge. Fine. Very rare.

Very little is known of the usurper Tiberius Claudius Marinus Pacatianus, who seized power in Upper Moesia in AD 248. Most of our information about Pacatian comes from his coinage. Viminacium is the most probable site for his mint, and a comparison with the local aes coinage shows remarkable similarity of style. Seven different reverses were used on the antoniniani of Pacatian – Concordia, Felicitas, Fides, Fortuna, Pax, Roma and Victory – all common themes in the third century. Such a variety of reverse types would suggest a large issue of coins, though today all coins of Pacatian are very rare, with only about 100 specimens of all varieties known. This coin comes with a certificate of authenticity from Rasiel Suarez, no. 655.

The final winners of all CNG Feature Auction 117 lots will be determined during the live online sale that will be held on 19-20 May 2021. This lot is in Session 2, which begins 19 May 2021 at 2 PM ET.

Winning bids are subject to a 20% buyer's fee for bids placed on this website and 22.50% for all others.

We recognize that our users may have various Internet Browsers and Operating Systems. We like our visitors to have the best possible experience when using our bidding platform. However, we do recognize that it is impossible to develop applications that work identically, efficiently and effectively on all web browsers The CNG bidding platform supports Mozilla Firefox (version 86+) and Chrome (version 88+).