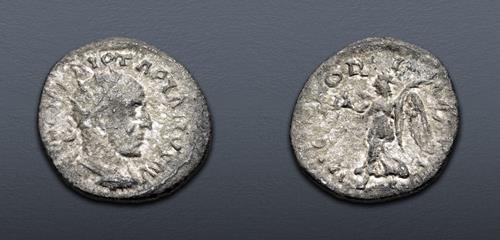 Jotapian. Usurper, circa AD 248-249. Antoninianus (21.5mm, 3.50 g, 12h). Nicopolis in Seleucia mint.
CNG Feature Auction 117
Lot: 597. Estimated: $ 5 000
Roman Imperial, Coin-in-Hand Video, Silver
Sold For $ 7 500. This amount does not include the buyer's fee.
Jotapian. Usurper, circa AD 248-249. Antoninianus (21.5mm, 3.50 g, 12h). Nicopolis in Seleucia mint. IM C M F R IOTΛPIΛNVS ΛV, radiate and cuirassed bust right / VICT OR I A AV G, Victory advancing left, holding wreath in right hand and palm frond in left. RIC IV 2 var. (obv. legend); Bland 8a (Obv. die IV/Rev. die v – this coin); RSC 1 var. (same). Toned, typical rough surfaces. Near VF. Very rare.

Ex George C. Hopkins Collection (Numismatica Ars Classica 114, 6 May 2019), lot 794; Lanz 26 (5 December 1983), lot 822.

Jotapian led a short-lived revolt in Syria in the autumn of AD 249 while Philip I was still emperor. Little is known of Jotapian's background. It was said that he boasted of a relationship to Severus Alexander, and his unusual name, although otherwise unknown for a man, is attested in its feminine form "Jotape" in the royal houses of Commagene and Emesa. The extreme rarity of his coins indicates that the revolt was brief, and the crude style proves that the revolt was geographically confined, for Jotapian plainly did not control a major Roman mint. His head was brought to Rome and shown to Trajan Decius "as was customary, although Decius had not asked for it" (Aur. Vict., Caes. 29.4). In his corpus of Jotapian's coins, Bland knew of eighteen genuine antoniniani in total, including this coin.

The final winners of all CNG Feature Auction 117 lots will be determined during the live online sale that will be held on 19-20 May 2021. This lot is in Session 2, which begins 19 May 2021 at 2 PM ET.

Winning bids are subject to a 20% buyer's fee for bids placed on this website and 22.50% for all others.

We recognize that our users may have various Internet Browsers and Operating Systems. We like our visitors to have the best possible experience when using our bidding platform. However, we do recognize that it is impossible to develop applications that work identically, efficiently and effectively on all web browsers The CNG bidding platform supports Mozilla Firefox (version 86+) and Chrome (version 88+).