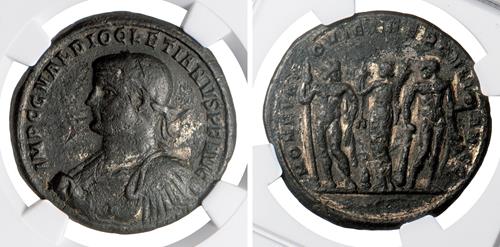 Diocletian. AD 284-305. Æ Medallion (36mm, 26.48 g, 5h). Rome mint. Struck circa AD 286-293.
CNG Feature Auction 117
Lot: 605. Estimated: $ 3 000
Roman Imperial, Bronze
Sold For $ 4 000. This amount does not include the buyer's fee.
Diocletian. AD 284-305. Æ Medallion (36mm, 26.48 g, 5h). Rome mint. Struck circa AD 286-293. IMP C C VAL DIOCLETIANVS P F AVG, laureate and cuirassed bust left, slight drapery, breastplate ornamented with gorgoneion, holding spear with his right hand over his right shoulder / MONETA I OVI ET HERCVLI AV GG, Moneta standing facing, head left, holding balance and cornucopia, pile of coins at her feet to left; to left, Jupiter standing facing, head right, holding thunderbolt and scepter; to right, Hercules standing facing, head left, holding apple and grounded club, lion skin draped over his left arm. Gnecchi II, 26 (pl. 125, 7); Tocci 87 (pl. XXIX, LIII – same dies); Grueber 9 (pl. LV, 262) for reverse type; Froehner p. 257; Cohen 337; Michel-Max Bendenoun (editor), Coins of the Ancient World – History's Priceless Treasures: A Portrait of the JDL Collection, 87 (same dies). Dark brown surfaces with traces of gilding. Rare. In NGC encapsulation 4938322-002, graded VF, Strike: 5/5, Surface: 3/5, light marks.

The unusual reverse composition of this medallion, Juno Moneta flanked by Jupiter and Hercules, mimics the iconic "Tres Monetae" type. Jocelyn Toynbee suggests that this type was intended as "...a dedication of the imperial mint to the Emperors' heavenly patrons, who bless financial administration and reforms." A most probable explanation given Diocletian's tendency to celebrate the religious significance for almost every facet of his reign.

The final winners of all CNG Feature Auction 117 lots will be determined during the live online sale that will be held on 19-20 May 2021. This lot is in Session 2, which begins 19 May 2021 at 2 PM ET.

Winning bids are subject to a 20% buyer's fee for bids placed on this website and 22.50% for all others.

We recognize that our users may have various Internet Browsers and Operating Systems. We like our visitors to have the best possible experience when using our bidding platform. However, we do recognize that it is impossible to develop applications that work identically, efficiently and effectively on all web browsers The CNG bidding platform supports Mozilla Firefox (version 86+) and Chrome (version 88+).