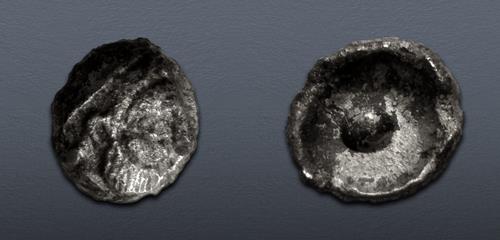 SICILY, Himera(?). Circa 470-450 BC. AR Onkia (5mm, 0.16 g).
Electronic Auction 494
Lot: 20. Estimated: $ 100
Greek, Silver
Sold For $ 450. This amount does not include the buyer's fee.
SICILY, Himera(?). Circa 470-450 BC. AR Onkia (5mm, 0.16 g). Bearded head of male right, wearing tainia / Pellet within incuse circle. Cf. HGC 2, 457 (trionkia with similar obverse); cf. Gitbud & Naumann 36, lot 18 (for a similar example). Reverse deposits. VF. Apparently unrecorded and extremely rare.

A puzzling emission of tiny silver fractions was struck by Himera in the mid-fifth century BC, all of them representing fractions of the (already small) silver litra, weighing about 0.86 grams. The reverse was denominated by a series of pellets, presumably representing the equivalent weight in bronze by the ounce (onkia). The smallest of these so far noted in extant references for Himera is a dionkia of about 0.14 grams in weight, marked by two pellets. This piece, with a single pellet, would seem to be an onkia, although by weight it ought to be a dionkia. Deposits of oxide on the reverse could account for some of the difference, but with such tiny fractions, precision at that level with the tools available to the ancient mintmasters must have been practically impossible. These tiny silver pieces would be replaced later in the fifth century by actual cast bronze pieces.

Closing Date and Time: 23 June 2021 at 10:06:20 ET.

All winning bids are subject to an 18% buyer's fee.