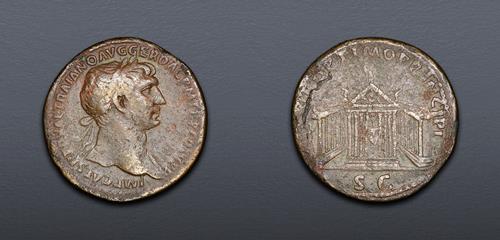 Trajan. AD 98-117. Æ As (27.5mm, 11.68 g, 6h). Rome mint. Struck AD 107-108.
Keystone Auction 4
Lot: 183. Estimated: $ 20
Roman Imperial, Bronze
Sold For $ 650. This amount does not include the buyer's fee.
Trajan. AD 98-117. Æ As (27.5mm, 11.68 g, 6h). Rome mint. Struck AD 107-108. Laureate bust right, slight drapery on far shoulder / Octastyle temple with portico on either side; in center, Jupiter seated; architrave adorned with figure of Jupiter and other figures; on roof, figure holding spear between two Victories; altar in front. RIC II 577. Brown surfaces, minor metal flaw on reverse. In NGC encapsulation 5872729-120, graded VF, Strike: 5/5, Surface: 3/5.

From the Robert W. Bartlett Bequest Sold for the Benefit of the American Numismatic Society. Ex Johns Hopkins University Collection [inv. 83.336] (Part III, Numismatic Fine Arts & Bank Leu, 29 March 1985), lot 431 (part of).

The temple of Jupiter Victor was dedicated on the Palatine Hill 13 April 294 (or 293) BC. This octastyle Corinthian order temple makes its first numismatic appearance on denarii of Domitian struck in AD 94, probably marking the re-building of the temple after the devastating fire of AD 80. Trajan used the temple to symbolize his military victories at the time of his decennalia, at which time the large courtyard altar and side colonnades may have been added. Elagabalus later re-dedicated the building to his eastern god Sol-Elagabal, and in the 10th century the sacred site saw new use as the church of St. Maria de Palladio.

Closing Date and Time: Thursday, 2 September 2021 at 11:00:40 ET.

All winning bids are subject to an 18% buyer's fee.