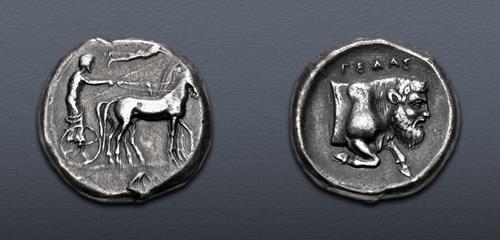 SICILY, Gela. Circa 420-415 BC. AR Tetradrachm (25mm, 17.14 g, 12h).
CNG Feature Auction 118
Lot: 51. Estimated: $ 3 000
Greek, Coin-in-Hand Video, Silver
Sold For $ 6 000. This amount does not include the buyer's fee.
SICILY, Gela. Circa 420-415 BC. AR Tetradrachm (25mm, 17.14 g, 12h). Charioteer, holding kentron in right hand and reins in both, driving slow quadriga right; above, Nike flying left, crowning horses with [wreath held in both hands]; in exergue, heron standing right / Forepart of man-headed bull right; ΓEΛAΣ above. Jenkins, Gela, Group VIII, 468 (O90/R180); HGC 2, 354; SNG ANS 90; SNG Copenhagen 269; SNG Lloyd 971; BMC 50; de Luynes 957; McClean 2258; Ward 153; Weber 1324 (all from the same dies). Old collection tone, some faint cleaning marks under tone, slightly off center on obverse. VF.

From the Father & Son Collection, purchased from Art Ancient, 2016. Ex Monetarium 53 (1 March 1990), no. 29.


The final winners of all CNG Feature Auction 118 lots will be determined at the live public sale that will be held on 13-14 September 2021. CNG Feature Auction 118 – Session One – Greek Coinage Part 1 will be held Monday morning, 13 September 2021 beginning at 9:00 AM ET.

Winning bids are subject to a 20% buyer's fee for bids placed on this website and 22.50% for all others.

We recognize that our users may have various Internet Browsers and Operating Systems. We like our visitors to have the best possible experience when using our bidding platform. However, we do recognize that it is impossible to develop applications that work identically, efficiently and effectively on all web browsers. The CNG bidding platform supports the latest stable major version and the stable previous version of Mozilla Firefox and Chrome.