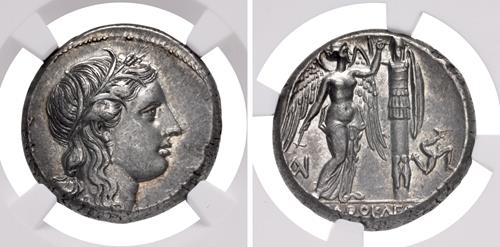 SICILY, Syracuse. Agathokles. 317-289 BC. AR Tetradrachm (23mm, 16.91 g, 4h). Struck circa 310-306/5 BC.
CNG Feature Auction 118
Lot: 89. Estimated: $ 2 000
Greek, Silver
Sold For $ 13 000. This amount does not include the buyer's fee.
SICILY, Syracuse. Agathokles. 317-289 BC. AR Tetradrachm (23mm, 16.91 g, 4h). Struck circa 310-306/5 BC. Head of Kore right, wearing wreath of grain ears, single-pendant earring, and pearl necklace; [KOPAΣ to left] / Nike standing right, erecting trophy to right; monogram to lower left, triskeles to outer right, [AΓA]ΘOKΛEO[Σ] in exergue. Ierardi 103 (O21/R64); BAR Issue 23; HGC 2, 1536; Boston MFA 463 = Warren 406 (same dies). Lightly toned. In NGC encapsulation 4281288-015, graded AU, Strike: 4/5, Surface: 5/5, Fine Style. Wings approved.

From the Mercury Group Collection. Ex Ponterio 124 (17 January 2003), lot 363.

The Kore tetradrachms of Agathokles were struck following a major victory over Carthaginian forces outside the gates of Syracuse in 310 BC, which prompted him to name himself King of Sicily and adopt the style and trappings of a Hellenistic ruler. The reverse, depicting Nike erecting a trophy, proved highly influential and was widely copied by Greek kingdoms and Romans centuries hence; a near-contemporary issue of Seleukos I Nikator has a similar reverse design, though Nike is more demurely clothed. The Kore tetradrachms are found in two main varieties based on the engraving style, termed "Sicilian" and "African," although both were probably struck in Syracuse. This piece exemplifies the finest Sicilian style and is clearly the work of a master engraver.

The final winners of all CNG Feature Auction 118 lots will be determined at the live public sale that will be held on 13-14 September 2021. CNG Feature Auction 118 – Session One – Greek Coinage Part 1 will be held Monday morning, 13 September 2021 beginning at 9:00 AM ET.

Winning bids are subject to a 20% buyer's fee for bids placed on this website and 22.50% for all others.

We recognize that our users may have various Internet Browsers and Operating Systems. We like our visitors to have the best possible experience when using our bidding platform. However, we do recognize that it is impossible to develop applications that work identically, efficiently and effectively on all web browsers. The CNG bidding platform supports the latest stable major version and the stable previous version of Mozilla Firefox and Chrome.