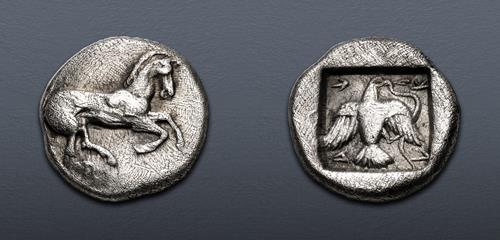 MACEDON, Olynthos. Circa 460-432 BC. AR Tetrobol (13.5mm, 2.84 g, 5h). In the name of the Chalkidians.
CNG Feature Auction 118
Lot: 128. Estimated: $ 1 000
Greek, Coin-in-Hand Video, Silver
Sold For $ 3 000. This amount does not include the buyer's fee.
MACEDON, Olynthos. Circa 460-432 BC. AR Tetrobol (13.5mm, 2.84 g, 5h). In the name of the Chalkidians. Horse prancing right / Eagle flying upward, holding serpent in beak; retrograde chalk in Euboic-Chalcidic around; all within incuse square. Robinson & Clement p. 292, Series 3; AMNG III/2, 3 note (Chalkis mint); HGC 3, –; SNG ANS 467 = Jameson 1945 (same dies). Lightly toned, granular surfaces, a few light scratches. Good VF. Very rare, only one in CoinArchives.

From the BRN Collection. Ex Classical Numismatic Review XLII.2 (Spring 2017), no. 452477.

The attribution of this rare issue has been the subject of much debate. While the types mimic issues in the name of Olynthos (cf. SNG ANS 466), some scholars believe that the legend on this piece is only logical for an issue from Chalkis in Euboia, since there is no evidence for a Chalkidian League prior to 432 BC, a date certainly too late for this issue. W. Greenwell, who first published the issue in NC 1897, though, suggested that this coinage may be the sole evidence extant of an earlier league, noting the close similarity of the Olynthos-named issue, and the unlikeliness of it being an issue that fit into the scheme of coinage at Chalkis. H. Gaebler, in AMNG, dismissed Greenwell's theory and said the issue was certainly from Chalkis, noting also that the eagle is flying right as a Chalkis, rather than upward as on the issues of Olynthos. On close examination, though, this stylistic distinction is almost certainly incorrect. Robinson & Clement noted the weakness of Gaebler's arguments, and placed the issue at Olynthos, based on the similarity to the Olynthos-signed tetrobols, but also admitted that "the series is still an enigma." Greenwell's argument still seems to be the most persuasive, especially given that our knowledge of the corpus of coinage at Chalkis is much better today; this issue simply does not seem to have a place at that city, and other than the "enigmatic" legend, there is no compelling reason to assign it elsewhere. This issue was most recently discussed by S. Psoma, who places the issue at Olynthos in the mid-5th century, and notes that the legend references "the Chalkidians of Olynthos" (cf. S. Psoma, Olynthe et les Chalcidiens de Thrace [Stuttgart, 2001], Appendix, pp. 253–61).

The final winners of all CNG Feature Auction 118 lots will be determined at the live public sale that will be held on 13-14 September 2021. CNG Feature Auction 118 – Session One – Greek Coinage Part 1 will be held Monday morning, 13 September 2021 beginning at 9:00 AM ET.

Winning bids are subject to a 20% buyer's fee for bids placed on this website and 22.50% for all others.

We recognize that our users may have various Internet Browsers and Operating Systems. We like our visitors to have the best possible experience when using our bidding platform. However, we do recognize that it is impossible to develop applications that work identically, efficiently and effectively on all web browsers. The CNG bidding platform supports the latest stable major version and the stable previous version of Mozilla Firefox and Chrome.