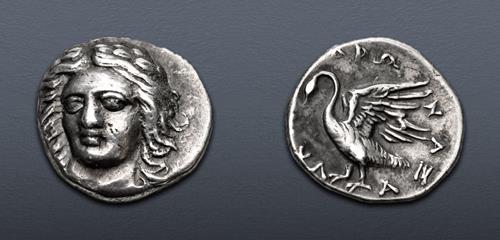 IONIA, Klazomenai. Circa 380-360 BC. AR Hemidrachm (13mm, 1.99 g, 6h). Mandronax, magistrate.
CNG Feature Auction 118
Lot: 277. Estimated: $ 750
Greek, Coin-in-Hand Video, Silver
Sold For $ 950. This amount does not include the buyer's fee.
IONIA, Klazomenai. Circa 380-360 BC. AR Hemidrachm (13mm, 1.99 g, 6h). Mandronax, magistrate. Laureate head of Apollo facing slightly left, drapery around neck / Swan standing left, wings spread; KPO-NAΞ above. SNG München 461–4 var. (magistrate); cf. SNG Lockett 2792 (drachm with this magistrate); Peus 389, lot 182 (same dies); Gorny & Mosch 138, lot 1401. Toned, tiny metal flaw and a few minor scratches. VF. Very rare hemidrachm with this magistrate, only two in CoinArchives.

Ex Lee Rousseau Collection (Goldberg 106, 4 September 2018), lot 1076; Schweizerische Kreditanstalt 3 (19 April 1985), lot 229.

This hemidrachm is from the same series as the beautiful tetradrachms that were struck from dies by the artist Theodotos, whose signature is engraved on the obverse of those coins (cf. BMC 19 and Berlin obj. no. 18216496 [both also from the same magistrate as the present coin]). Due to the close similarity of style across all the issues, it is thought that the dies for the fractional silver of this series were struck from unsigned dies by the same master.

The final winners of all CNG Feature Auction 118 lots will be determined at the live public sale that will be held on 13-14 September 2021. CNG Feature Auction 118 – Session One – Greek Coinage Part 1 will be held Monday morning, 13 September 2021 beginning at 9:00 AM ET.

Winning bids are subject to a 20% buyer's fee for bids placed on this website and 22.50% for all others.

We recognize that our users may have various Internet Browsers and Operating Systems. We like our visitors to have the best possible experience when using our bidding platform. However, we do recognize that it is impossible to develop applications that work identically, efficiently and effectively on all web browsers. The CNG bidding platform supports the latest stable major version and the stable previous version of Mozilla Firefox and Chrome.