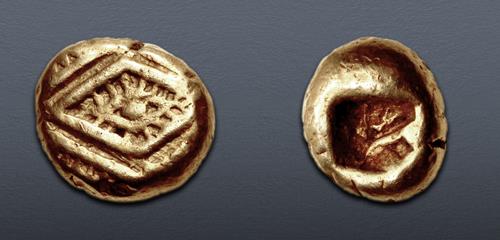 IONIA, Uncertain. Circa 625-600 BC. EL Hekte – Sixth Stater (9.5mm, 2.19 g). Lydo-Milesian standard.
CNG Feature Auction 118
Lot: 287. Estimated: $ 2 000
Greek, Coin-in-Hand Video, Electrum
Sold For $ 7 500. This amount does not include the buyer's fee.
IONIA, Uncertain. Circa 625-600 BC. EL Hekte – Sixth Stater (9.5mm, 2.19 g). Lydo-Milesian standard. Eye composed of central dot within three concentric linear diamonds, with radiating lines between the inner two; radiate lines around periphery / Incuse square with irregular lines. Cf. Weidauer 124 (1/48 stater); Elektron –; Elektron –; Ophthalmologia XIII.1 = Rosen 265 (this coin); Traité I 113 = BMC 27 (1/96 stater); cf. SNG Kayhan 691 (same); SNG von Aulock –; cf. Weber 5722 (trite). Good VF. Very rare.

From the Dr. Jay M. Galst Collection. Ex Jonathan P. Rosen Collection (Münzen und Medaillen AG 72, 6 October 1987), lot 29; Münzen und Medaillen AG FPL 401 (June 1978), no. 3.

From Ophthalmologia: "From its inception in western Asia Minor (modern Turkey) in the late seventh century BCE, western coinage ... has made extensive use of the eye as a symbol. While the later symbolism of the eye on numismatic material is generally easily decipherable, this is not the case with the earliest coins [lots 287–90 here]. Unlike the designs of later coinage that have clear political, social, or religious associations, the significance of the eye as a primary type on the first coins is unknown."

The final winners of all CNG Feature Auction 118 lots will be determined at the live public sale that will be held on 13-14 September 2021. CNG Feature Auction 118 – Session One – Greek Coinage Part 1 will be held Monday morning, 13 September 2021 beginning at 9:00 AM ET.

Winning bids are subject to a 20% buyer's fee for bids placed on this website and 22.50% for all others.

We recognize that our users may have various Internet Browsers and Operating Systems. We like our visitors to have the best possible experience when using our bidding platform. However, we do recognize that it is impossible to develop applications that work identically, efficiently and effectively on all web browsers. The CNG bidding platform supports the latest stable major version and the stable previous version of Mozilla Firefox and Chrome.