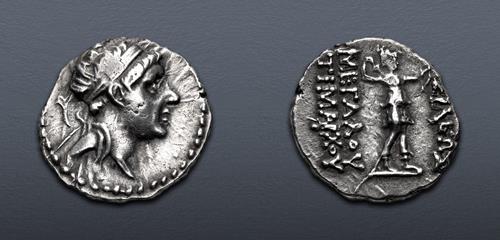 SELEUKID EMPIRE. Timarchos. Usurper, 164-161 BC. AR Drachm (17mm, 4.37 g, 12h). Ekbatana mint(?).
CNG Feature Auction 118
Lot: 385. Estimated: $ 5 000
Greek, Coin-in-Hand Video, Silver
Sold For $ 4 500. This amount does not include the buyer's fee.
SELEUKID EMPIRE. Timarchos. Usurper, 164-161 BC. AR Drachm (17mm, 4.37 g, 12h). Ekbatana mint(?). Diademed head right; dotted border / [BA]ΣIΛEΩΣ MEΓAΛOY TIMAPXOY, Artemis advancing right, head left, holding bow in right hand and drawing arrow from quiver with left. SC 1593; Le Rider, Suse, p. 333, C3; HGC 9, 764; ECH 20 (this coin). Lightly toned, slight die wear. Good VF. Excellent metal. Extremely rare, one in CoinArchives (Gorny & Mosch 261, lot 375; of lesser quality), two in SCO.

From the Eastern Campaigns Hoard (publication forthcoming).

CNG is pleased to present the following offering from the Eastern Campaigns Hoard, which appeared in commerce in 2007. Composed of eastern mint drachms from the reigns of Antiochos III through Timarchos, this hoard is exceptional in that it contains five examples of Timarchos; the largest single find of his coins. All of the coins are from Seleukid mints in Media, primarily Ekbatana and the ΞAP-monogram mint. The unusually high quantity of Timarchos's coins suggest the hoard was deposited late in his reign, perhaps during the time of his revolt against Demetrios I, circa 162-161 BC, or very shortly thereafter.

The mint of Ekbatana was primarily focused on the production of coinage to fulfill commercial and military needs in the eastern portion of the Seleukid realm. At some point during the reign of Antiochos III, it became apparent that activity related to the expanding Parthian threat required the establishment of a new mint farther east that would directly support efforts to defend the border from incursions. Thus, the ΞAP-monogram mint was established circa 211/0 BC, based on the portraiture of Antiochos III used on the coins (Type B), which would have been during the time of the king's eastern campaign. Its location is currently unknown, but the mint likely would have been somewhere along the route between Ekbatana and Hekatompylos, which was taken by the Seleukids from Parthia in 209 BC (SC suggests Rhagai, Charax, or Hekatompylos).

The mint primarily produced drachms that appear to have been struck from dies that were comparatively crude in style, and used long after their types began to degrade. This overuse of the dies and the rather careless striking that many of the mint's coins exhibit suggests a haste to their production, which would be reasonable for a coinage struck in anticipation of exigent and unexpected events, such as the defense of a frontier from an imminent invasion. Some of the drachm issues of Ekbatana also exhibit these features, which suggests they also may have been struck during a time of crisis. One wonders whether Ekbatana remained the primary mint for the Seleukid east, and the ΞAP-monogram mint was only operational when the system was under extreme stress?

An unusual feature of the ΞAP-monogram mint coins is that Apollo is not depicted holding the canonical recurve bow, but rather a compound bow, which is the typical representation of a bow on Parthian coinage. This feature strongly suggested this series was the product of a different mint, and not Ekbatana, where they were previously assigned, and also supports the new attribution to a mint farther east, either near or inside Parthian territory. The mint apparently closed during the later reign of Antiochos IV, likely during the western campaign of the Parthian king, Phraates I. Upon the closure of the ΞAP-monogram mint, the full responsibility for financing the defense against the Parthian threat must have shifted back to Ekbatana.

This is the third, and final, offering of coins from this hoard, which will eventually be published in a scholarly article that is referenced in each lot.

The final winners of all CNG Feature Auction 118 lots will be determined at the live public sale that will be held on 13-14 September 2021. CNG Feature Auction 118 – Session Two – Greek Coinage Part 2 through Roman Provincial Coinage Part 1 will be held Monday afternoon, 13 September 2021 beginning at 2:00 PM ET.

Winning bids are subject to a 20% buyer's fee for bids placed on this website and 22.50% for all others.

We recognize that our users may have various Internet Browsers and Operating Systems. We like our visitors to have the best possible experience when using our bidding platform. However, we do recognize that it is impossible to develop applications that work identically, efficiently and effectively on all web browsers. The CNG bidding platform supports the latest stable major version and the stable previous version of Mozilla Firefox and Chrome.