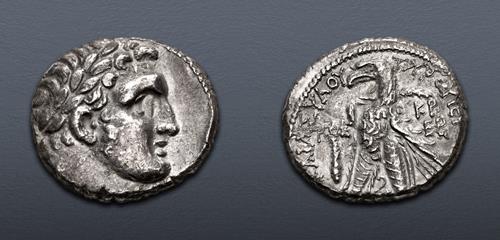 PHOENICIA, Tyre. 126/5 BC-AD 65/6. AR Shekel (25.5mm, 13.43 g, 1h). Dated CY 175 (AD 49/50).
CNG Feature Auction 118
Lot: 404. Estimated: $ 500
Greek, Coin-in-Hand Video, Silver
Sold For $ 1 000. This amount does not include the buyer's fee.
PHOENICIA, Tyre. 126/5 BC-AD 65/6. AR Shekel (25.5mm, 13.43 g, 1h). Dated CY 175 (AD 49/50). Laureate head of Melkart right, [lion skin around neck] / Eagle standing left on prow; palm frond in background; to left, POE (date) above club; to right, KP above monogram; Phoenician B between legs. DCA-Tyre 654; RPC I 4674 corr. (date); HGC 10, 357; DCA 920. Toned, some roughness. VF.

From the Dr. Jay M. Galst Collection. Ex Elsen 44 (27 April 1996), lot 243.


The final winners of all CNG Feature Auction 118 lots will be determined at the live public sale that will be held on 13-14 September 2021. CNG Feature Auction 118 – Session Two – Greek Coinage Part 2 through Roman Provincial Coinage Part 1 will be held Monday afternoon, 13 September 2021 beginning at 2:00 PM ET.

Winning bids are subject to a 20% buyer's fee for bids placed on this website and 22.50% for all others.

We recognize that our users may have various Internet Browsers and Operating Systems. We like our visitors to have the best possible experience when using our bidding platform. However, we do recognize that it is impossible to develop applications that work identically, efficiently and effectively on all web browsers. The CNG bidding platform supports the latest stable major version and the stable previous version of Mozilla Firefox and Chrome.