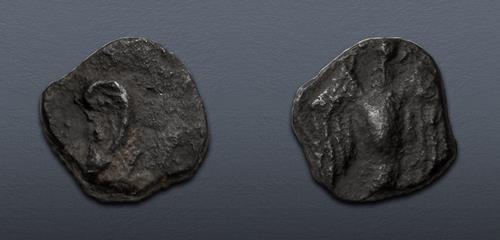 JUDAEA, Achaemenid Province (Yehud). Anonymous. Circa 375-332 BCE. AR Gerah (6.5mm, 0.29 g, 10h).
CNG Feature Auction 118
Lot: 459. Estimated: $ 3 000
Greek, Silver
Sold For $ 4 500. This amount does not include the buyer's fee.
JUDAEA, Achaemenid Province (Yehud). Anonymous. Circa 375-332 BCE. AR Gerah (6.5mm, 0.29 g, 10h). Ear (of God?) / Falcon upward, head right, wings spread; [YHD (in Phoenician) to right]. MCP YHD 13, dies O1/R2 (this coin referenced & illustrated); Meshorer 18; Hendin 1061; HGC 10, 440. Find patina. VF.

From the Father & Son Collection. Ex Numismatica Ars Classica 84 (20 May 2015), lot 702.

In his seminal work, A Treasury of Jewish Coins, Y. Meshorer identified the obverse type as God's ear (pp. 11–2), stating: "In ancient forms of ritual and prayers to various deities, the notable relationship between man and his god was that between supplicant and listener: the supplicant voices his prayer and entreaties to his god, and the god listens and tries to carry out his wishes. Thus the god's most important organ was his ear that heard the prayer. Indeed, an appeal to the gods and an appeal to the God of Israel was to be directed to their ears, and there are many examples of this in the Bible, including: 'Incline Thine ear unto me and hear my speech' (Ps. 17:6); 'Incline Thine ear unto me and save me' (Ps. 71:2), and 'Incline Thine ear, O Lord, and answer me' (Ps. 86:1)."

The final winners of all CNG Feature Auction 118 lots will be determined at the live public sale that will be held on 13-14 September 2021. CNG Feature Auction 118 – Session Two – Greek Coinage Part 2 through Roman Provincial Coinage Part 1 will be held Monday afternoon, 13 September 2021 beginning at 2:00 PM ET.

Winning bids are subject to a 20% buyer's fee for bids placed on this website and 22.50% for all others.

We recognize that our users may have various Internet Browsers and Operating Systems. We like our visitors to have the best possible experience when using our bidding platform. However, we do recognize that it is impossible to develop applications that work identically, efficiently and effectively on all web browsers. The CNG bidding platform supports the latest stable major version and the stable previous version of Mozilla Firefox and Chrome.