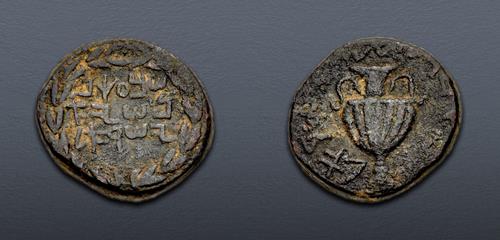 JUDAEA, Bar Kochba Revolt. 132-135 CE. Æ Abu Jara (29.5mm, 23.35 g, 12h). Dated year 1 (132/3 CE).
CNG Feature Auction 118
Lot: 536. Estimated: $ 5 000
Greek, Bronze, Coin-in-Hand Video
Sold For $ 7 000. This amount does not include the buyer's fee.
JUDAEA, Bar Kochba Revolt. 132-135 CE. Æ Abu Jara (29.5mm, 23.35 g, 12h). Dated year 1 (132/3 CE). "Shim'on, Prince of Israel" (in Hebrew) in three lines within palm wreath with ties below, medallion above / Amphora; "year one of the redemption of Israel" (in Hebrew) around. Mildenberg 97 (O2/R4); Meshorer 220; Hendin 1376; Bromberg 559 (same dies); Shoshana I 20234 (same dies); Sofaer 3. Black surfaces, some roughness and trace earthen deposits. VF.

From the Dr. Jay M. Galst Collection, purchased from a German dealer, December 1993.

Though the full extent of its causes are debated, what is certain is that the Bar Kokhba Revolt of AD 132-135 was bloody and devastating. Hadrian made a brief visit to Judaea circa AD 130, during his second great provincial tour of AD 129-132. Prior to his arrival, rumors spread among the Jews that he intended to rebuild Jerusalem and the great Temple, destroyed during the Jewish War of AD 66-73, so he was at first warmly welcomed. However, according to the Roman historian Cassius Dio, Hadrian decided to rebuild the city as the Roman veteran colony of Aelia Capitolina, with a temple to Jupiter replacing the one once dedicated to Jehovah. It is also claimed in the Historia Augusta that Hadrian made circumcision a capital offense, although Cassius Dio does not mention this law. A combination of one or both of these factors likely sparked the revolt, which decimated the province of Judaea and darkened Hadrian's final years.

Led by the military leader Simon ben Kosiba (known as Simon bar Kokhba), a brave and harshly meticulous general, Dio writes that the Judaean forces literally fought underground, "occupy[ing] the advantageous positions in the country and strengthen[ing] them with mines and walls so that they would have places of refuge when hard pressed and could communicate with one another unobserved underground; and they pierced these subterranean passages from above at intervals to let in air and light." Though these tactics were effective in causing great expense to the Roman Empire, particularly as "many Romans...perished in this war," they were ultimately not enough to avert disaster. "Very few of [the Jews] in fact survived. Fifty of their most important outposts and nine hundred and eighty-five of their most famous villages were razed to the ground. Five hundred and eighty thousand men were slain in the various raids and battles, and the number of those that perished by famine, disease, and fire was past finding out." Throughout the failed rebellion, the city remained under Roman control and served as a base of operations for the Sixth and Tenth Legions. Aelia Capitolina remained the city's official name through the end of the Roman and Byzantine era, although Christians and Jews continued to call it Jerusalem. Jews were banned from entering the city except for one day a year, Tisha B'Av, when they were allowed to mourn at the Western Wall. The mint of Aelia Capitolina produced bronze coins until the brief reign of Hostilian (AD 251).

As David Hendin notes, Bar Kokhba's historically important coins would mark an end to the minting of Jewish coins in antiquity. Though there was absolutely no financial incentive for the Jews to strike their own coins during the revolt as all of the Bar Kokhba coinage was overstruck on a motley mix of coins already in circulation, Judaean coinage from this period played an integral role in the dissemination of political propaganda. As Meshorer notes: "Not only did [Bar Kokhba] deface the portraits of despised emperors by this technique [of overstriking], he was also able to depict Jewish symbols and nationalistic inscriptions." Coins were struck with hopeful slogans, such as: "Jerusalem" and "For the freedom of Jerusalem." Though these coins were useful for the morale of the rebellion, they still marked a period of extreme economic chaos for the Jewish fighters. They "neither controlled an already established mint, nor possessed a city large enough to support a new one." The lack of consistency this caused was evident, as "the difference in weight between coins that are ostensibly of the same denomination [could] reach 200%." This resulted in coins of often unique variety, both material and historical.

The final winners of all CNG Feature Auction 118 lots will be determined at the live public sale that will be held on 13-14 September 2021. CNG Feature Auction 118 – Session Two – Greek Coinage Part 2 through Roman Provincial Coinage Part 1 will be held Monday afternoon, 13 September 2021 beginning at 2:00 PM ET.

Winning bids are subject to a 20% buyer's fee for bids placed on this website and 22.50% for all others.

We recognize that our users may have various Internet Browsers and Operating Systems. We like our visitors to have the best possible experience when using our bidding platform. However, we do recognize that it is impossible to develop applications that work identically, efficiently and effectively on all web browsers. The CNG bidding platform supports the latest stable major version and the stable previous version of Mozilla Firefox and Chrome.