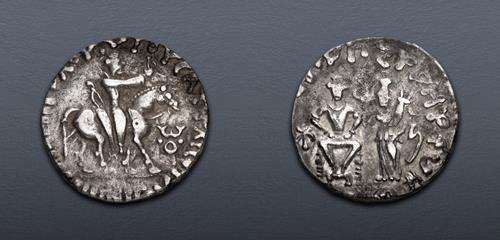 INDO-SKYTHIANS, Northern Satraps. Zeionises. Circa 45/35-5 BC. AR Tetradrachm (26mm, 9.71 g, 3h). Uncertain mint in Chukhsa (Chach).
CNG Feature Auction 118
Lot: 658. Estimated: $ 4 000
Central Asian, Coin-in-Hand Video, Silver
Sold For $ 2 750. This amount does not include the buyer's fee.
INDO-SKYTHIANS, Northern Satraps. Zeionises. Circa 45/35-5 BC. AR Tetradrachm (26mm, 9.71 g, 3h). Uncertain mint in Chukhsa (Chach). MANIΓOΛOY YIOY CATPΛΠOY ZCIωNIΓOY, king in Parthian attire and holding whip right on horseback; Buddhist triratana ("Three Jewels") to right; ; uncertain Kharosthi letter between horse's leg / Manigulasa chatrapasa putrasa chatrapasa Jihuniasa in Kharosthi, king enthroned facing, being crowned with wreath by Tyche, standing left, holding cornucopia; cha in Kharosthi to left, bu in Kharosthi to right. Zeno 236710 = Triton XXIII, lot 548 (same dies). Minor find patina in recesses, areas of weak strike at periphery. VF. Of great rarity, only the Triton XXIII coin in CoinArchives.

Bob Senior writes: "The coin is a tetradrachm of Zeionises of unpublished type. See Indo-Scythian Coins and History (ISCH) types 130 - 132 for the obverse. This coin has very good Greek legends which indicates that it was struck very early in the reign of Zeionises – the regular coins get cruder the later they are struck, and the Greek becomes garbled.

Zeionises was the successor of Azilises, probably around 40/35 BC and the obverse design copied from his coins – see S32 - 37. Zeionises's father is mentioned on the coins – Manigula, and we know from an inscription that he was 'brother of the king' presumably Azilises. Zeionises would therefore be Azilises' nephew. The reverse has the King enthroned with City deity (same deity as on his regular coins) crowning him with a wreath. As such it is unique amongst Indo-Scythian coins."

The final winners of all CNG Feature Auction 118 lots will be determined at the live public sale that will be held on 13-14 September 2021. CNG Feature Auction 118 – Session Two – Greek Coinage Part 2 through Roman Provincial Coinage Part 1 will be held Monday afternoon, 13 September 2021 beginning at 2:00 PM ET.

Winning bids are subject to a 20% buyer's fee for bids placed on this website and 22.50% for all others.

We recognize that our users may have various Internet Browsers and Operating Systems. We like our visitors to have the best possible experience when using our bidding platform. However, we do recognize that it is impossible to develop applications that work identically, efficiently and effectively on all web browsers. The CNG bidding platform supports the latest stable major version and the stable previous version of Mozilla Firefox and Chrome.