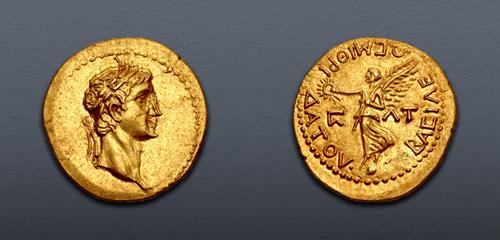 KINGS of BOSPORUS. Mithradates III, with Claudius. AD 39/40-44/5. AV Stater (20mm, 7.85 g, 12h). Dated BE 336 (AD 39/40).
CNG Feature Auction 118
Lot: 714. Estimated: $ 7 500
Roman Provincial, Coin-in-Hand Video, Gold
Sold For $ 14 000. This amount does not include the buyer's fee.
KINGS of BOSPORUS. Mithradates III, with Claudius. AD 39/40-44/5. AV Stater (20mm, 7.85 g, 12h). Dated BE 336 (AD 39/40). Head of Claudius right / BACIΛE ΩC MIΘPI ΔATOV•, Nike advancing left, holding wreath and palm frond; ς ΛΤ (date) across field. Frolova dies A-a; MacDonald 308; Anokhin 327; RPC I 1908. Die rust and slight doubling on obverse, scratch on reverse. Near EF. Extremely rare, only four specimens cited by RPC.

Following Julius Caesar's famous defeat of Pharnakes II, the Bosporan kingdom was ruled by a succession of Roman-approved client kings. Upon Mithradates III' accession, he sent his younger brother Cotys to Rome as his ambassador. Cotys instead used this as an opportunity to betray his brother, informing the Romans that Mithradates was plotting a war against Rome. As a result, Mithradates was deposed and replaced by Cotys. Mithradates fled and, with Cotys now installed as king, much of the Roman forces left the region. Mithradates attempted to regain the throne but was quickly defeated. With all of his support now gone, the displaced king was forced to surrender and was subsequently permitted to live in Rome. He was put to death by Galba in AD 68 following an attempted coup.

The final winners of all CNG Feature Auction 118 lots will be determined at the live public sale that will be held on 13-14 September 2021. CNG Feature Auction 118 – Session Two – Greek Coinage Part 2 through Roman Provincial Coinage Part 1 will be held Monday afternoon, 13 September 2021 beginning at 2:00 PM ET.

Winning bids are subject to a 20% buyer's fee for bids placed on this website and 22.50% for all others.

We recognize that our users may have various Internet Browsers and Operating Systems. We like our visitors to have the best possible experience when using our bidding platform. However, we do recognize that it is impossible to develop applications that work identically, efficiently and effectively on all web browsers. The CNG bidding platform supports the latest stable major version and the stable previous version of Mozilla Firefox and Chrome.