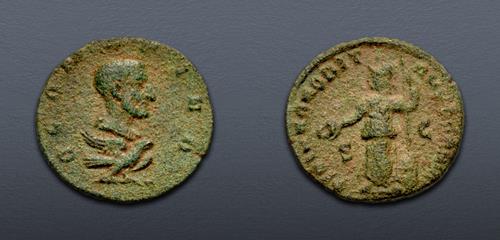 ARABIA, Philippopolis. Divus Julius Marinus. Died before AD 244. Æ (23mm, 5.60 g, 6h). Struck circa AD 247-249.
CNG Feature Auction 118
Lot: 885. Estimated: $ 2 000
Roman Provincial, Bronze, Coin-in-Hand Video
Sold For $ 1 200. This amount does not include the buyer's fee.
ARABIA, Philippopolis. Divus Julius Marinus. Died before AD 244. Æ (23mm, 5.60 g, 6h). Struck circa AD 247-249. ΘЄΩ MAPINΩ, bareheaded bust right, slight drapery on far shoulder, supported by eagle standing right / ΦIΛIΠΠOΠOΛIT-ΩN KOΛ[ΩNIAC], Roma or Allat standing left, holding patera and spear, with shield at side; S C across field. Butcher, Two, pl. 25, 11; Spijkerman 2; Sofaer 2; SNG ANS 1402. Earthen green patina. VF.

Ex Triton XXI (9 January 2018), lot 826.

The father of Philip I, Julius Marinus hailed from a small town in the province of Arabia (modern day Shuhba, Syria; the original name of the ancient town is unknown). Following the death of Marinus, Philip deified his father and had a temple to him built in his newly aggrandized hometown – now renamed Philippopolis and elevated to the rank of colonia.

The neat fabric of the city's coins is quite out of place for Arabia. This, combined with die links between the coins of Philippopolis, Zeugma, and Antioch, point to production at a central location, with Antioch being the likeliest candidate.

The final winners of all CNG Feature Auction 118 lots will be determined at the live public sale that will be held on 13-14 September 2021. CNG Feature Auction 118 – Session Three – Roman Provincial Coinage Part 2 through Roman Imperial Coinage Part 1 will be held Tuesday morning, 14 September 2021 beginning at 9:00 AM ET.

Winning bids are subject to a 20% buyer's fee for bids placed on this website and 22.50% for all others.

We recognize that our users may have various Internet Browsers and Operating Systems. We like our visitors to have the best possible experience when using our bidding platform. However, we do recognize that it is impossible to develop applications that work identically, efficiently and effectively on all web browsers. The CNG bidding platform supports the latest stable major version and the stable previous version of Mozilla Firefox and Chrome.