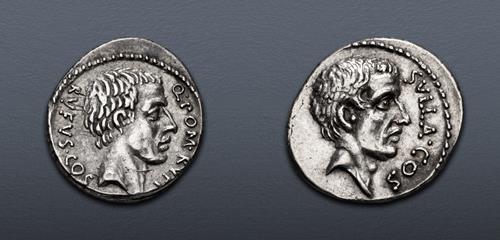 Q. Pompeius Rufus. 54 BC. AR Denarius (17mm, 3.57 g, 3h). Rome mint.
CNG Feature Auction 118
Lot: 908. Estimated: $ 2 000
Roman Republican, Coin-in-Hand Video, Silver
Sold For $ 2 250. This amount does not include the buyer's fee.
Q. Pompeius Rufus. 54 BC. AR Denarius (17mm, 3.57 g, 3h). Rome mint. Bare head of the consul Q. Pompeius Rufus right / Bare head of Sulla right. Crawford 434/1; Sydenham 908; Pompeia 4; RBW 1544. Toned, some faint hairlines. Near EF. Well centered. Exceptional portrait of Sulla in high relief.

From the Thomas A. Palmer Collection. Ex Peus 366 (25 October 2000), lot 1220; Lanz 72 (29 May 1995), lot 416; Monetarium 42 (Autumn 1984), no. 82.

The moneyer chose to depict both his maternal grandfather, the dictator Sulla, and his paternal grandfather, Quintus Pompeius Rufus, consuls in 88 BC. Pompeius was an ardent supporter of the dictator, and their alliance was further cemented by the marriage of Pompeius' son to Sulla eldest daughter, Cornelia Sulla. The marriage produced two children, the moneyer responsible for this denarius and Pompeia, second wife of Julius Caesar (whom Caesar famously divorced following the scandal associated with the festival of Bona Dea in 62 BC).

The final winners of all CNG Feature Auction 118 lots will be determined at the live public sale that will be held on 13-14 September 2021. CNG Feature Auction 118 – Session Three – Roman Provincial Coinage Part 2 through Roman Imperial Coinage Part 1 will be held Tuesday morning, 14 September 2021 beginning at 9:00 AM ET.

Winning bids are subject to a 20% buyer's fee for bids placed on this website and 22.50% for all others.

We recognize that our users may have various Internet Browsers and Operating Systems. We like our visitors to have the best possible experience when using our bidding platform. However, we do recognize that it is impossible to develop applications that work identically, efficiently and effectively on all web browsers. The CNG bidding platform supports the latest stable major version and the stable previous version of Mozilla Firefox and Chrome.