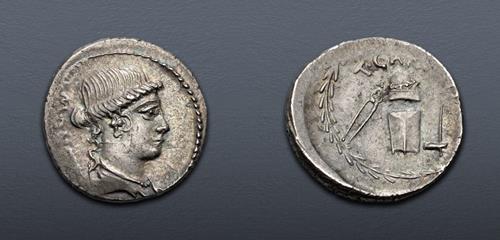 Moneyer issues of Imperatorial Rome. T. Carisius. 46 BC. AR Denarius (18mm, 3.64 g, 4h). Rome mint.
CNG Feature Auction 118
Lot: 914. Estimated: $ 500
Roman Republican, Coin-in-Hand Video, Silver
Sold For $ 850. This amount does not include the buyer's fee.
Moneyer issues of Imperatorial Rome. T. Carisius. 46 BC. AR Denarius (18mm, 3.64 g, 4h). Rome mint. Head of Juno Moneta right / Implements for coining money: anvil die with garlanded punch die above, tongs and hammer on either side; all within laurel wreath. Crawford 464/2; CRI 70; Sydenham 982a; Carisia 1a; RBW 1614. Deep iridescent tone, reverse slightly off center. EF.

Ex Jonathan P. Rosen Collection (Classical Numismatic Group 108, 16 May 2018), lot 520; Eucharius Collection (Roma XI, 7 April 2016), lot 696.

A temple to Juno Moneta (Juno "the Advisor") was dedicated on the Capitoline Hill in 344 BC and its grounds served as Rome's first mint. The association between this temple and the minting of coinage was such that the English words "mint," "money," and "monetary" derive from "moneta."

The final winners of all CNG Feature Auction 118 lots will be determined at the live public sale that will be held on 13-14 September 2021. CNG Feature Auction 118 – Session Three – Roman Provincial Coinage Part 2 through Roman Imperial Coinage Part 1 will be held Tuesday morning, 14 September 2021 beginning at 9:00 AM ET.

Winning bids are subject to a 20% buyer's fee for bids placed on this website and 22.50% for all others.

We recognize that our users may have various Internet Browsers and Operating Systems. We like our visitors to have the best possible experience when using our bidding platform. However, we do recognize that it is impossible to develop applications that work identically, efficiently and effectively on all web browsers. The CNG bidding platform supports the latest stable major version and the stable previous version of Mozilla Firefox and Chrome.