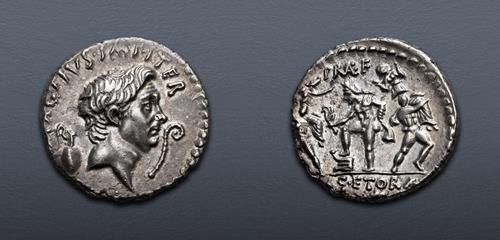 The Pompeians. Sextus Pompey. 37/6 BC. AR Denarius (19mm, 3.64 g, 11h). Uncertain Sicilian mint.
CNG Feature Auction 118
Lot: 922. Estimated: $ 4 000
Roman Republican, Coin-in-Hand Video, Silver
Sold For $ 8 000. This amount does not include the buyer's fee.
The Pompeians. Sextus Pompey. 37/6 BC. AR Denarius (19mm, 3.64 g, 11h). Uncertain Sicilian mint. Bare head of Pompey the Great right; capis to left, lituus to right, [M]AG • PIVS • IMP • ITER around / Neptune, naked but for chlamys on left arm, holding apluster and resting right foot on prow, standing left between the Catanaean brothers Anapias and Amphinomus running in opposite directions, bearing their parents on their shoulders; PRÆF above, [CL]AS • ET • ORÆ/[(MAR)IT • EX • S • C] in two lines in exergue. Crawford 511/3a; CRI 334; Sydenham 1344; RSC 17 (Pompey the Great); RBW 1785. Attractive cabinet tone with iridescence around the devices. EF. Fantastic portrait of Pompey the Great.

Ex Roma XVI (26 September 2018), lot 638.


The final winners of all CNG Feature Auction 118 lots will be determined at the live public sale that will be held on 13-14 September 2021. CNG Feature Auction 118 – Session Three – Roman Provincial Coinage Part 2 through Roman Imperial Coinage Part 1 will be held Tuesday morning, 14 September 2021 beginning at 9:00 AM ET.

Winning bids are subject to a 20% buyer's fee for bids placed on this website and 22.50% for all others.

We recognize that our users may have various Internet Browsers and Operating Systems. We like our visitors to have the best possible experience when using our bidding platform. However, we do recognize that it is impossible to develop applications that work identically, efficiently and effectively on all web browsers. The CNG bidding platform supports the latest stable major version and the stable previous version of Mozilla Firefox and Chrome.