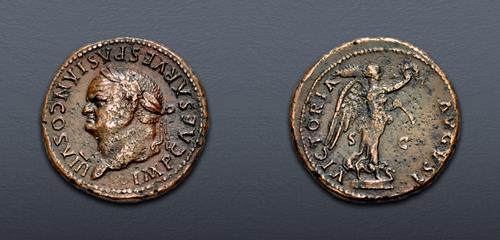 Vespasian. AD 69-79. Æ As (26.5mm, 10.80 g, 6h). Rome mint. Struck AD 77-78.
CNG Feature Auction 118
Lot: 1014. Estimated: $ 300
Roman Imperial, Bronze, Coin-in-Hand Video
Sold For $ 275. This amount does not include the buyer's fee.
Vespasian. AD 69-79. Æ As (26.5mm, 10.80 g, 6h). Rome mint. Struck AD 77-78. Laureate head left / Victory standing right on prow, holding wreath and palm frond. RIC II.1 1014. Brown and green surfaces, minor roughness. VF.

From the Dr. Jay M. Galst Collection. Ex Shlomo Moussaieff Collection (Gorny & Mosch 265, 14 October 2019), lot 1332.

The reverse type, depicting Victory on the prow of a ship, is a legend variant of the VICTORIA NAVALIS type struck for both Titus and Vespasian in AD 71-72. This is sometimes attributed as a reference to an obscure victory over Judaean rebels on the Sea of Galilee, mentioned briefly by Flavius Josephus in The Jewish War. Although this interpretation is disputed, there remains no other naval victory on record during the Flavian era.

The final winners of all CNG Feature Auction 118 lots will be determined at the live public sale that will be held on 13-14 September 2021. CNG Feature Auction 118 – Session Three – Roman Provincial Coinage Part 2 through Roman Imperial Coinage Part 1 will be held Tuesday morning, 14 September 2021 beginning at 9:00 AM ET.

Winning bids are subject to a 20% buyer's fee for bids placed on this website and 22.50% for all others.

We recognize that our users may have various Internet Browsers and Operating Systems. We like our visitors to have the best possible experience when using our bidding platform. However, we do recognize that it is impossible to develop applications that work identically, efficiently and effectively on all web browsers. The CNG bidding platform supports the latest stable major version and the stable previous version of Mozilla Firefox and Chrome.