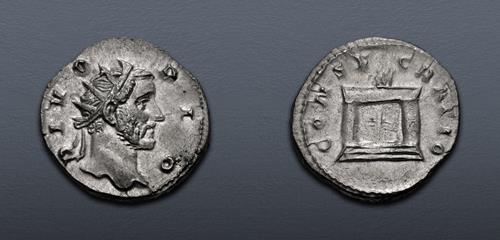 Divus Antoninus Pius. Died AD 161. AR Antoninianus (21mm, 4.14 g, 6h). Consecration issue. Rome mint. Struck under Trajan Decius, AD 250-251.
CNG Feature Auction 118
Lot: 1078. Estimated: $ 300
Roman Imperial, Coin-in-Hand Video, Silver
Sold For $ 350. This amount does not include the buyer's fee.
Divus Antoninus Pius. Died AD 161. AR Antoninianus (21mm, 4.14 g, 6h). Consecration issue. Rome mint. Struck under Trajan Decius, AD 250-251. Radiate head right / Lighted altar on three steps, panels in front. RIC IV 90 (Decius); RSC 1189. Lightly toned, traces of deposits on obverse. EF.

Ex Triton XII (6 January 2009), lot 627; Numismatic Fine Arts XX (9 March 1988), lot 383.

Struck at the midway point of the third century AD, the "Imperial Divi" series of silver antoniniani portrayed a selection of deified emperors from Rome's past who were still being venerated as heroes and gods. Exactly who struck this series, however, remains mysterious, as the coins do not name the issuing emperor in the manner of earlier "restitution" issues.

In RIC IV Part II (1949), Harold Mattingly attributed the 'Divus' types to Trajan Decius (AD 249-251), specifically to the mint at Milan. Via a study of die-linkage, K.J.J. Elks has since refuted Mattingly's mint attribution, placing the 'Divi' series in the last issue of Decius struck at Rome (see NumChron 1972, pp. 111-115 and pls. 14-15). The attribution to Decius has also been challenged by new theories placing the series with Philip I (AD 244-249) or Trebonianus Gallus (AD 251-253). On stylistic, metallurgical and hoard find grounds, however, Decius is still the most likely issuer.

Intriguingly, not all deified Caesars are honored: The series lacks Julius Caesar, Claudius, Lucius Verus, Pertinax and Caracalla, all of whom had been raised to Olympus by a vote of the Senate. To further confuse matters, the series does include one emperor who never seems to have been "officially" deified, Severus Alexander, although it is likely our surviving records are incomplete in this instance.

The Imperial Divi series does show the engravers of the Rome mint were capable of artistic and versatile die work in recreating the portraits of past emperors.

The final winners of all CNG Feature Auction 118 lots will be determined at the live public sale that will be held on 13-14 September 2021. CNG Feature Auction 118 – Session Three – Roman Provincial Coinage Part 2 through Roman Imperial Coinage Part 1 will be held Tuesday morning, 14 September 2021 beginning at 9:00 AM ET.

Winning bids are subject to a 20% buyer's fee for bids placed on this website and 22.50% for all others.

We recognize that our users may have various Internet Browsers and Operating Systems. We like our visitors to have the best possible experience when using our bidding platform. However, we do recognize that it is impossible to develop applications that work identically, efficiently and effectively on all web browsers. The CNG bidding platform supports the latest stable major version and the stable previous version of Mozilla Firefox and Chrome.