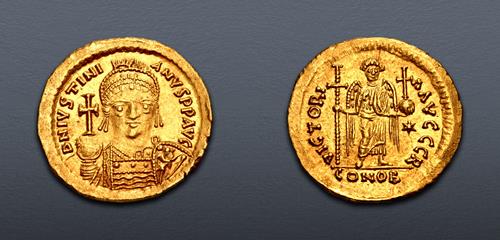 Justinian I. 527-565. AV Solidus (20mm, 4.32 g, 6h). Rome mint. Struck circa 537-542.
CNG Feature Auction 118
Lot: 1186. Estimated: $ 3 000
Byzantine, Coin-in-Hand Video, Gold
Sold For $ 14 000. This amount does not include the buyer's fee.
Justinian I. 527-565. AV Solidus (20mm, 4.32 g, 6h). Rome mint. Struck circa 537-542. D N IVSTINI–ANVS P P AVG, helmeted and cuirassed facing bust, holding globus cruciger in right hand, shield over left shoulder / VICTORI–A AVGGG, angel standing facing, holding long cross in right hand and globus cruciger in left; star in right field; R//CONOB. DOC –; MIBE 30; SB 288B. Lightly clipped. Choice EF. Extremely rare. Only one cited in MIBE, two additional in CoinArchives.

From the Malcolm W. Heckman Collection. Ex Goldman Collection (Triton XX, 10 January 2017), lot 1053; Sincona 3 (25 October 2011), lot 3076; Numismatica Ars Classica 21 (17 May 2001), lot 610.


The final winners of all CNG Feature Auction 118 lots will be determined at the live public sale that will be held on 13-14 September 2021. CNG Feature Auction 118 – Session Four – Roman Imperial Coinage Part 2 through Antiquities will be held Tuesday afternoon, 14 September 2021 beginning at 2:00 PM ET.

Winning bids are subject to a 20% buyer's fee for bids placed on this website and 22.50% for all others.

We recognize that our users may have various Internet Browsers and Operating Systems. We like our visitors to have the best possible experience when using our bidding platform. However, we do recognize that it is impossible to develop applications that work identically, efficiently and effectively on all web browsers. The CNG bidding platform supports the latest stable major version and the stable previous version of Mozilla Firefox and Chrome.