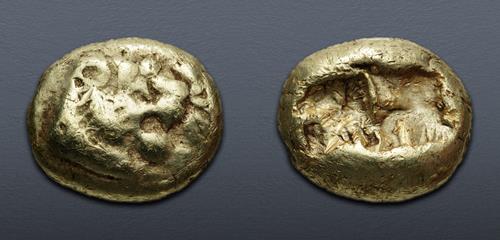 KINGS of LYDIA. Alyattes. Circa 620/10-564/53 BC. EL Hekte (10mm, 2.35 g). Sardes mint.
Electronic Auction 503
Lot: 27. Estimated: $ 300
The Windmill Collection, Electrum
Sold For $ 800. This amount does not include the buyer's fee.
KINGS of LYDIA. Alyattes. Circa 620/10-564/53 BC. EL Hekte (10mm, 2.35 g). Sardes mint. Confronted heads of roaring lions, "sun" on foreheads (die positioned to feature the left side lion); traces of WALWEL (in Lydian) downward between / Two incuse squares. Weidauer Group XVII, 101–2; Kurth G18; SNG Ashmolean 754; Traité I 51–2. Scratches. Fine.

From the Windmill Collection. Ex Numismatik Naumann 55 (2 July 2017), lot 283.

The lion head/incuse coinage is among the earliest firmly attributed to the Lydian kingdom, and its origins date to the time of Alyattes, who ruled circa 620/10-564/53 BC. While most of the coins are anepigraphic, a small number of them bear the inscription Walwel or Kukalim in Lydian. Although these names likely equate to Alyattes and Gyges, respectively, hoard studies have shown that these coins were not only contemprary with one another, but also with the anepigraphic issues. Thus, while Walwel may refer to the king, Kukalim most likely refers to another member of the royal family or some other high official.

All trites and hektes with the inscription Walwel or Kukalim are struck from obverse dies that are much larger than the respective denominations require. These dies contain two opposing lion heads with the Lydian inscription between, and the coin blanks were struck off-center, in such a way that only one of the lion heads would be visible with the inscription. The coins above are examples of this method, with each pair being struck from the same die, but on opposite sides. It is uncertain whether the dies were originally intended for a larger denomination, or whether the dies were designed so that coins could be struck with either facing lion head.

Closing Date and Time: 3 November 2021 at 10:08:40 ET.

All winning bids are subject to an 18% buyer's fee.