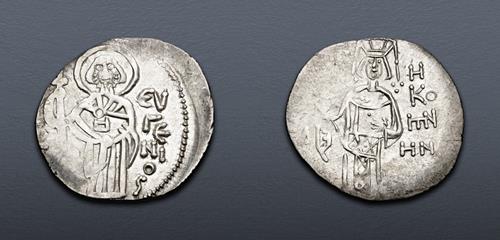 Theodora. Empress of Trebizond, Circa 1285. AR Asper (24mm, 2.71 g, 6h).
Electronic Auction 504
Lot: 583. Estimated: $ 1 000
Byzantine, Silver
Sold For $ 2 500. This amount does not include the buyer's fee.
Theodora. Empress of Trebizond, Circa 1285. AR Asper (24mm, 2.71 g, 6h). St. Eugenius standing facing, holding long cross / Theodora standing facing, holding globus cruciger; manus Dei to upper left. Retowski 1; SB 2618. Weak strike on the periphery. VF. Rare.

From the Luis A. Lopez Martinez Collection. Ex Classical Numismatic Group 63 (21 May 2003), lot 1746.

Theodora, the older sister of John II, ruled in her own name for a brief period in the middle of his reign. The details of her usurpation, if that is what it was, are unclear. The only reference is by a chronicler, who remarks that Theodora "fled suddenly to Kyria." The miniature empire of Trebizond was established in 1204, or possibly slightly earlier, by Alexius, a prince of the royal Comnenus line which had been deposed by the Angeloi in 1185. The chaos that ensued after the Crusader sack of Constantinople in 1204 allowed the Trebizonds to establish secure borders between the Black Sea and the Pontic mountains, develop a profitable trade network, and negotiate favorable diplomatic marriages with the Byzantines, Georgians, and Turks. The Trebizond princesses were renowned for their intelligence and beauty, and were valuable commodities for the royal house. Three of them--Theodora, Irene, and Anna--ruled in their own right for brief periods. Theodora is the only one for whom coins were struck. The Trebizonds did well with their limited resources, but were always in a precarious position, isolated from their natural Christian allies and existing only on the sufferance of their powerful neighbors, the Seljuks, Mongols and Ottomans. In 1461 the Ottomans finally eliminated this last remnant of Byzantine autonomy.

Closing Date and Time: 17 November 2021 at 13:14:00 ET.

All winning bids are subject to an 18% buyer's fee.