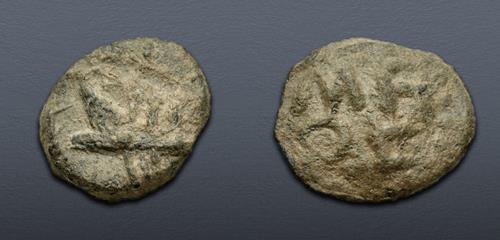 SPAIN, Uncertain. 1st-3rd century AD. PB Tessera (16mm, 4.26 g, 8h).
Electronic Auction 506
Lot: 1. Estimated: $ 100
Selections from the Dalzell Collection, Lead
Sold For $ 110. This amount does not include the buyer's fee.
SPAIN, Uncertain. 1st-3rd century AD. PB Tessera (16mm, 4.26 g, 8h). Galley / MF/QF. CPM 13a. Deposits. VF. Very rare. Seemingly the only example of this series to be offered at auction.

From the Dalzell Collection. Ex Classical Numismatic Group Electronic Auction 287 (26 September 2012), lot 941 (part of).

This piece comes from a fascinating series of Spanish tesserae from the Imperial period. A number of them bear a series of letters on the reverse – MFA, MF/OD, MFC, MF/QF, and others. Initially, the first two letters were interpreted Municipia Flavia, with the others representing towns (Avernensis, Oducia, etc). However, many of these letter combinations are also found on Spanish amphora stamps, indicating that they are mostly likely names, and that the tokens share some connection to the olive oil trade. For discussion, see Dalzell, "Personal, Public and Mercantile Themes on Unpublished Lead Tokens," in Tokens, Value and Identity: Exploring Monetiform Objects in Antiquity and the Middle Ages (2021), p. 77-8.

Closing Date and Time: 15 December 2021 at 10:00:00 ET.