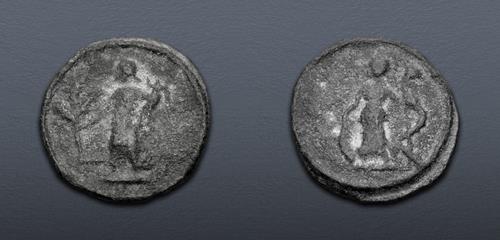 ROME. 1st-3rd centuries AD. PB Tessera (17mm, 4.04 g, 12h).
Electronic Auction 506
Lot: 3. Estimated: $ 100
Selections from the Dalzell Collection, Lead
Sold For $ 325. This amount does not include the buyer's fee.
ROME. 1st-3rd centuries AD. PB Tessera (17mm, 4.04 g, 12h). Hilaritas standing left, holding palm frond and cornucopia / Minerva standing left, resting shield on ground and holding serpent-entwined spear. Rostowzew 1798. Gray patin. Near VF. Rare – Rostowzew records only two, one in the BM and another in the Vatican. The goddess Hilaritas is overall rare on tesserae, here paired with an uncommon depiction of Minerva with serpent.

From the Dalzell Collection.

The charmingly crude styles of many Roman tessera are somewhat of an acquired taste for collectors who are used to the fine style and skill of the official Roman mint. This piece, with it's characteristic low relief and the Hilaritas's comically misproportioned palm frond, is a particularly good example of the series.

Closing Date and Time: 15 December 2021 at 10:00:40 ET.