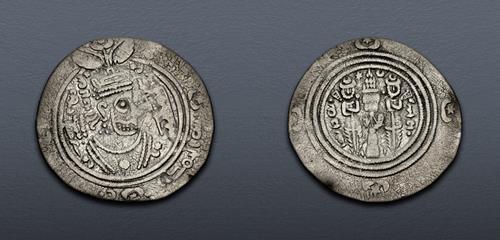 ISLAMIC, Umayyad Caliphate. temp. 'Abd Allah ibn al-Zubayr. Rival Caliph, AH 60-73 / AD 680-692. AR Drachm (27mm, 2.61 g, 3h). Arab-Sasanian type. Issue of 'Umar ibn 'Ubayd Allah ibn Mi'mar, Zubayrid governor at Ardaxšīr-xvarrah. ART (Ardaxšīr-xvarrah) mi
Electronic Auction 506
Lot: 578. Estimated: $ 75
Early Medieval & Islamic, Silver
Sold For $ 60. This amount does not include the buyer's fee.
ISLAMIC, Umayyad Caliphate. temp. 'Abd Allah ibn al-Zubayr. Rival Caliph, AH 60-73 / AD 680-692. AR Drachm (27mm, 2.61 g, 3h). Arab-Sasanian type. Issue of 'Umar ibn 'Ubayd Allah ibn Mi'mar, Zubayrid governor at Ardaxšīr-xvarrah. ART (Ardaxšīr-xvarrah) mint. Dated AH 67 in Pahlavi (AD 686/7). Crowned Sasanian-style bust right; lillah al-hamd in Arabic and four pellets, and pellet and crescent in outer margin / Fire altar with ribbons and attendants; crescent and star flanking flames. Malek, Arab-Sasanian –; Album 21; ICV 24. Obverse die rust. Near VF.


Closing Date and Time: 15 December 2021 at 13:12:20 ET.