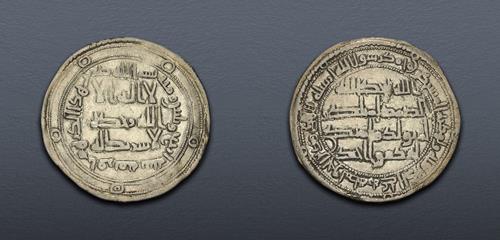 'Abbasid Caliphate. temp. Al-Saffah. AH 132-136 / AD 749-754. AR Dirham (26.6mm, 2.81g, 2h). Ifriqiya mint. Dated AH 134.
CNG Islamic Auction 1
Lot: 81. Estimated: $ 7 500
Post-Reform Umayyad Coinage, Silver
Sold For $ 5 000. This amount does not include the buyer's fee.
'Abbasid Caliphate. temp. Al-Saffah. AH 132-136 / AD 749-754. AR Dirham (26.6mm, 2.81g, 2h). Ifriqiya mint. Dated AH 134. Of Umayyad type, with surat al-Ikhlas on reverse. Klat -; Lowick -; cf Morton & Eden auction 89, 25 October 2017, lot 15. Cleaned. Good VF. Extremely rare.

Ex Morton & Eden (London) Auction 103 (24 October 2019), lot 21.

After the death of the Umayyad caliph Hisham in AH 126, 'Abd al-Rahman b. Habib al-Fihri took advantage of the ensuing chaos to seize power in North Africa. The new caliph, Marwan II, had little choice but to confirm 'Abd al-Rahman as governor there.   He survived the fall of the Umayyads, and the new Abbasid caliph, al-Saffah, initially allowed him to remain in post. Over time, however, 'Abd al-Rahman became increasingly concerned by repeated Abbasid demands for him to submit to them, and he switched his allegiance to the Umayyad cause.  He invited the surviving Umayyads to take refuge with him in North Africa, but soon became concerned that having members of the former ruling dynasty in the province he had usurped might threaten his own power there.  The caliph Hisham's grandson, 'Abd al-Rahman b. Mu'awiya b. Hisham, accordingly went into hiding among the Berbers for a time, before crossing the Straits of Gibraltar and establishing the Spanish Umayyad dynasty Spain in AH 138.


The final winners of all CNG Islamic Auction 1 lots will be determined at the live online sale that will be held on 25 May 2022, beginning at 10:00 AM ET.

Winning bids are subject to a 20% buyer's fee for bids placed on this website and 22.50% for all others.

We recognize that our users may have various Internet Browsers and Operating Systems. We like our visitors to have the best possible experience when using our bidding platform. However, we do recognize that it is impossible to develop applications that work identically, efficiently and effectively on all web browsers. The CNG bidding platform supports the latest stable major version and the stable previous version of Mozilla Firefox and Chrome.